About team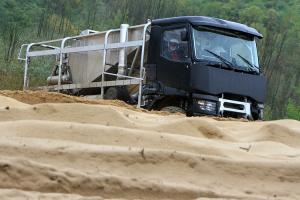 We are a development and service team. MKR Adventure follows up on the extraordinarily successful performances of the MKR Technology team in the European Truckracing Championship series. However, the project focuses exclusively on long-distance races and rallies. We are able to prepare the engine and construct a high-endurance racing truck capable of tackling extreme strain, high temperatures and rough conditions usual for the famous Dakar Rally.
With our MKR Powertrain Rally Edition racing component the Aleš Loprais crew and their Tatra Jamal were the best Czech representatives in the 2014 contest, finishing on sixth place in the category of trucks and having recorded two stage wins during the entire rally, a silver and a bronze.
For this year's Dakar our team constructed two brand new racing specials (Renault K520 4x4) for the Dutch Mammoet Rallysport team. In addition, we created a unique alliance with the Czech Bonver Dakar Project, for whom we deliver racing power trains and ensure technical support. With powers joined, we can set ourselves the highest goals. Although we know that in a race as specific as the Dakar Rally luck plays a major role, we have taken care of the technological and technical aspects on the highest level. This was only confirmed by the fact that all five trucks we sent to the 2015 Dakar reached the finish llinr. We need to note that one third of the crew didn't make it to the finish at all.
However, with the data we collected and experience we gained we are raising the bar for ourselves. We are constantly working on becoming the best...