News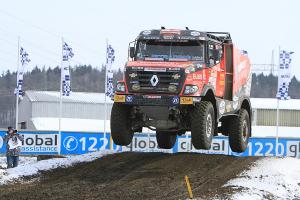 21.3.2018
Czech fans of rally Dakar had a totally unique opportunity. On Sunday at the Sosnová circuit near Česká Lípa, grand meeting of Czech crews and machinery took place - all associated with the famous race. 4th edition had the strongest line-up in history, including almost complete crews of domestic participants. And MKR Technology trucks, for the first time, were part of it. Dutch pilot Martin van den Brink also paid a visit.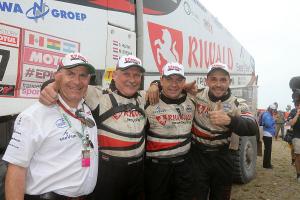 21.1.2018
It's over! 40th edition of Dakar Rally is history. In the end Russian driver Eduard Nikolaev took the win, but north-bohemian truck from MKR Technology team has done a great job. The truck driven by Gerd Huzink took seventh place in the ranking. Two Czech trucks made to the top 10 - the one by MKR and fifth overall with Martin Macík.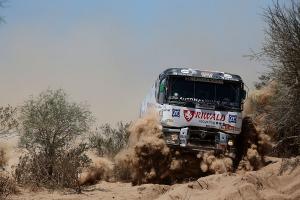 20.1.2018
Anniversary Dakar heading to finish! Teams have just tackled penultimate stage into finishing city of Córdoba, where Dakar will close this edition on Saturday. In 13th stage, despite technical problems, north-bohemian MKR Technology truck with Gerd Huzink has managed to climb into overall 8th place.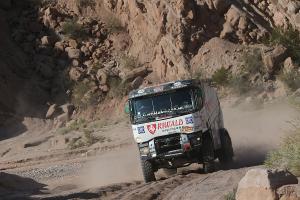 19.1.2018
During the 12th racing day the teams of Dakar Rally had to handle a longest timed stage. Russian Nikolajev returned to the overall lead after a day spent lower in the ranking. But his lead is just a single second. Gerd Huzink, riding a north Bohemian Renault Trucks special already aimed to the podium, but he was blocked by a punctured tire.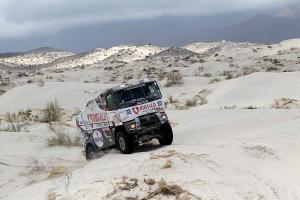 18.1.2018
Both good and bad news came to the designer team of MKR Technology during the 11th stage of Dakar Rally. While Janus van Kasteren`s truck did not manage to get to the start of the stage due to technical issues, the situation was saved by Gerd Huzink ranking as a fifth in the difficult stage.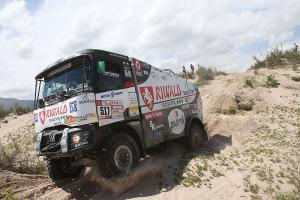 17.1.2018
There is no easy stage on this year`s Dakar! The 10th race stage tested the technique and limits of human abilities. The teams talk about real purgatory; the ranking shuffles. While the pilot of north Bohemian MKR Technology truck, Gerd Huzink, entered the top ten, a lot of doubts is with pilot Janus van Kasteren due to his technical problems with transmission.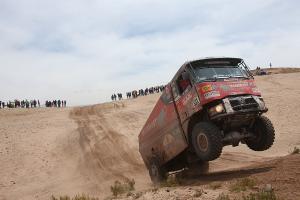 15.1.2018
Extreme follows an extreme. This year`s Dakar Rally shows, why it is considered to be the world`s most difficult distant competition. And the organizers really tried. There is no resting stage, technique and people suffer, they get nothing for free and this is what the teams actually like. Also the 8th stage on Sunday was one of the most difficult. The trucks from north-Bohemian MKR Technology dealt with the problems successfully, though they lost some time.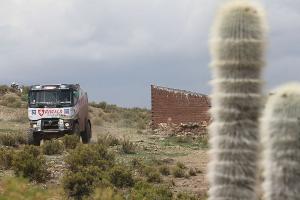 14.1.2018
Dakar comes to its second half after a day off on Friday, and again in a big style. During the 7th stage the teams not only reached high altitude, but what is more, they have to manage without external help. The stage is in the mode of so called 'marathon', which means that for two days everyone relies on themselves only.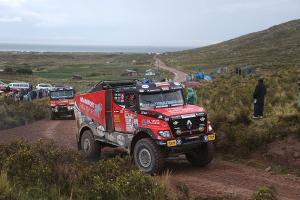 13.1.2018
High hopes had the fans of Dutch-Czech team with Martin van den Brink and on-board technician Daniel Kozlovský. After news of dropping out before 5th stage of Rally Dakar their truck from northern Bohemia from MKR Technology centre totally unexpectedly appeared on the start list of 6th stage on Thursday, which they have finished in the TOP 10. But then their hopes died. Their team is really out from this edition of Dakar.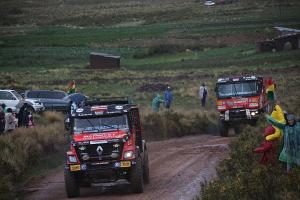 12.1.2018
6th stage of Rally Dakar took place in a very strange atmosphere. Truck driven by Martin van den Brink, which had stayed in the dunes the day before and had not made the start of fifth stage, was allowed to start. So all three north-bohemian trucks designed by MKR Technology finished this stage. Janus van Kasteren finished in top 10.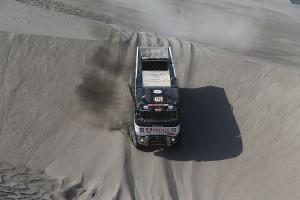 11.1.2018
Never-ending sand and hard dunes. Dakar is still beating hard all the competitors. For north-bohemian trucks designed by MKR Technology Gert Huzink is saving the situation. He has just missed the top 10 in 5th stage. Mammoet Rallysport teams are having heaps of bad luck.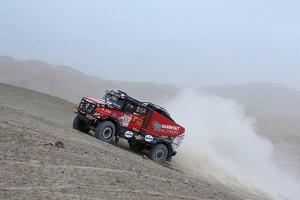 10.1.2018
Anniversary 40th edition of The Dakar is extremely difficult. Even the biggest favourites are fighting with its traps. Dakar ended prematurely for many teams. Fourth racing day tried to drop out north-bohemian truck designed by MKR Technology as well. While Gerd Huzink finished on a fantastic fifth position, van den Brink perforated his oil tank and is trying to find a way out of the dunes. Even quick assistance with van Kasteren could not tow him to bivouac. The teams are not giving up and are trying to keep fighting.