News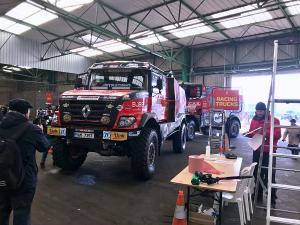 29.11.2018
Another edition of the most prestigious rally of the world is coming. In the French port of Le Havre, all the machinery has already embarked on a ship and will be on a journey to South America for a month. The 41st edition of the famous Dakar kicks off on January 6th, and the North Bohemian team, MKR Technology, will again have three racing trucks to fight for the podium.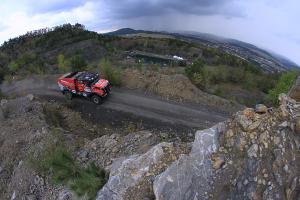 14.9.2018
More than six hundred guests from Europe, Russia and Qatar experienced the feelings of Dakar crew. 4th edition of Renault Trucks & MKR Technology Adventure days 2018 took place in the past week. This unique event took place in Czech for the first time. Dakar racing special trucks by Mario Kress design team from Northern Bohemia were introduced near Kosov quarry near Beroun.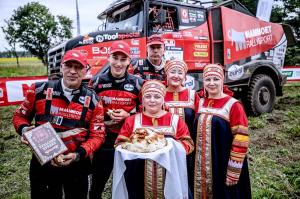 28.7.2018
End is good, all is good. The MKR Technology North Bohemian truck driver is a sensational winner of the final stage of this year's Silk Way Rally in Russia. Martin van den Brink proved that if he did not have an initial technical problems with a turned-over wheel, he could aspire for the highest positions. In the final stage, he also left all the Kamaz trucks behind.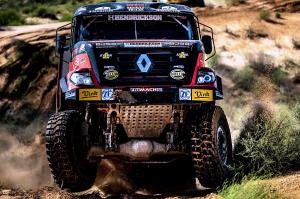 26.7.2018
Martin van den Brink lost an hour and half in the 5th stage of the Silk Way Rally. The Dutch pilot of the North Bohemian truck took eighth place this time. The program offered the longest special section of this year, and the crews were tested indeed again.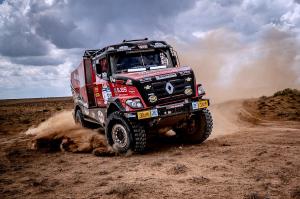 25.7.2018
Fifty-nine seconds prevented the North Bohemian truck from a victory at the Silk Way Rally. Renault Trucks by MKR Technology with pilot Martin van den Brink arrived again in the 4th leg on silver position.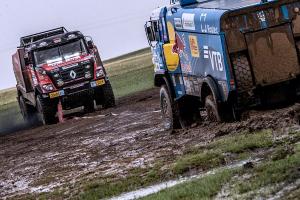 23.7.2018
The driver of the North Bohemian truck from the MKR Technology team Martin van den Brink is finally delighted. In the 3rd stage of the Russian Silk Way Rally he jumped to the podium. This time he took silver position, which he took as a present for 48th birthday after all the bad luck.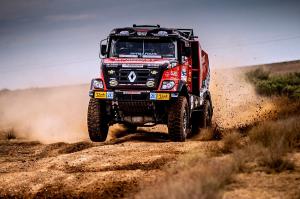 23.7.2018
This is like a horror movie. First of all, this year's Silk Way Rally has been suddenly shortened for only a week, and just before the start, the Dutch driver, Gert Huzink, was forced due to family circumstances not to start. And on Saturday's first stage, technical problems of his colleague Martin van den Brink tore his dream of a good overall location to pieces. As if nothing could go according to original plans. But the team is not giving up.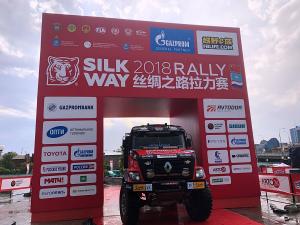 21.7.2018
Only Martin van den Brink's truck was introduced on Friday at the Silk Way Rally ceremony in Russia. Pilot Gert Huzink had to cancel his start at the last minute due to family reasons and leave Russia for home. At this year's Silk Road, only one truck from North Bohemian MKR Technology team will be fighting for win.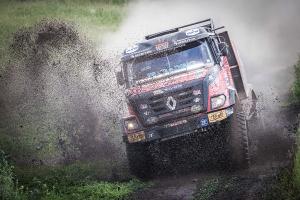 12.7.2018
This year's edition of Silk Way Rally will be completely different. Last year, the racers had to go through three states, this year they will spend in Russia completely. The race was shortened from original two weeks into just one week. This will make the fight for victory more intense. Team MKR Technology from Northern Bohemia will send two trucks to this year Silk Way Rally.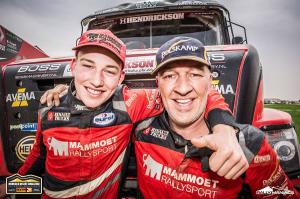 25.4.2018
Golden hattrick on Morocco Desert Challenge for MKR Technology team was not happening this year, but the gap was very small – less than 24 minutes. Truck of the Renault Trucks team with Dutch pilot Martin van den Brink finished second after two years of victory. Majority of stage wins confirms that anniversary 10th year belonged to those exceptionally successful.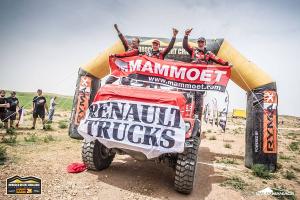 22.4.2018
The last stage and also the last victory. Trucks of the north Bohemian team scored well again in Morocco. Two of the pilots got a podium position of the last 8thstage and the third one was right after them. For the overall win, twenty three minutes were missing that Martin van den Brink could not eliminate any more.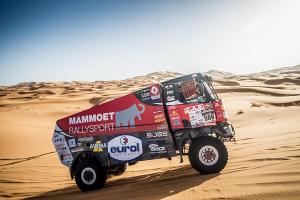 22.4.2018
Pilot of the north Bohemian truck, Martin van den Brink, gets a golden hattrick. The Dutchman dominated also the last but one 7thstage of Morocco Desert Challenge and it is his third win on this difficult rally this year. He again managed to reduce slightly the lead of the overall leader, but almost half an hour is still a large difference before the final stage.