News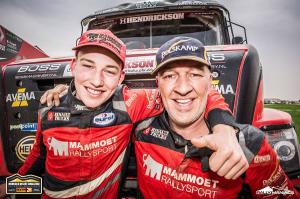 25.4.2018
Golden hattrick on Morocco Desert Challenge for MKR Technology team was not happening this year, but the gap was very small – less than 24 minutes. Truck of the Renault Trucks team with Dutch pilot Martin van den Brink finished second after two years of victory. Majority of stage wins confirms that anniversary 10th year belonged to those exceptionally successful.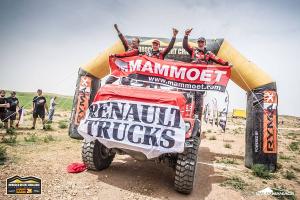 22.4.2018
The last stage and also the last victory. Trucks of the north Bohemian team scored well again in Morocco. Two of the pilots got a podium position of the last 8thstage and the third one was right after them. For the overall win, twenty three minutes were missing that Martin van den Brink could not eliminate any more.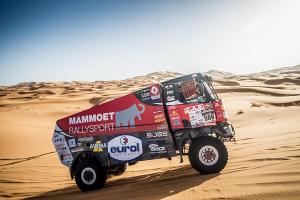 22.4.2018
Pilot of the north Bohemian truck, Martin van den Brink, gets a golden hattrick. The Dutchman dominated also the last but one 7thstage of Morocco Desert Challenge and it is his third win on this difficult rally this year. He again managed to reduce slightly the lead of the overall leader, but almost half an hour is still a large difference before the final stage.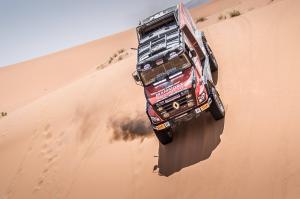 21.4.2018
Martin van den Brink is gold again. The Dutch pilot in the cockpit of north Bohemian Renault shined in the 6thstage of Morocco Desert Challenge. In overall ranking he keeps the second position.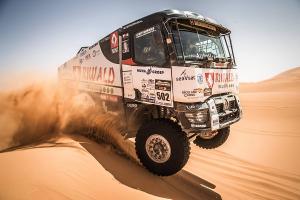 20.4.2018
Absolut fantasy! After previous technical problems the north-Bohemian trucks finished on the first two places in 5thstage of Morocco Desert Challenge. Without Aleš Loprais the Mario Kress` Renaults from Židovice could have celebrated a gold stage hattrick. The stage was won by van Kasteren, second ended Huzink and the fourth was van den Brink.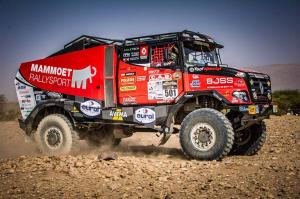 19.4.2018
Winning silver in the 4thstage, the north-Bohemian MKR Technology team completed its medal collection on Maroko Desert Challenge. The second place, up to now missing for the team, was reached by dutch pilot Martin van den Brink that was beaten only by Aleš Loprais and just due to getting stuck in the dunes.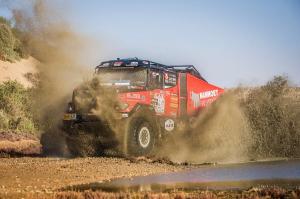 18.4.2018
In third stage of Morocco Desert Challenge the North-Bohemian team had to go without victory. Thanks to Janus van Kasteren the team got bronze, his team-mate Martin van den Brink just narrowly missed the podium.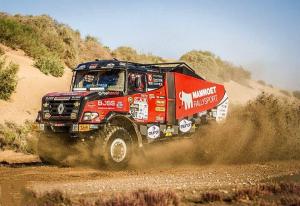 17.4.2018
Second stage and second victory! North-Bohemian trucks are starting the Moroccan rally big. This time Martin van den Brink is happy with gold, as he totally owned the longest stage of tenth edition of Morocco Desert Challenge and moved into overall lead.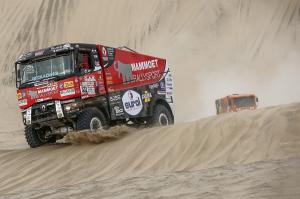 16.4.2018
First stage, first victory. MKR Technology team has started Morocco Desert Challenge rally in an excellent way. Dutch pilot Janus van Kasteren from Mammoet Rallysport team was the fastest man on the course. Martin van den Brink, his team-mate, crossed the line on bronze position.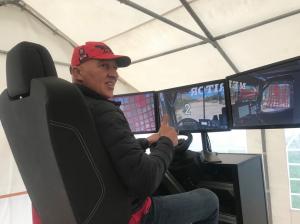 5.4.2018
Presentation in Lyon, tests in Almería and attempt for golden hatrick in Morocco Desert Challenge. This is how actual programme of MKR Technology looks like. The programme started on Easter. Rally, which after big changes in the last year, has taken second position, right behind the famous Dakar and demanding Silk Way, starts next week and trio of North-bohemian trucks will try to defend their crown and get third win in a row.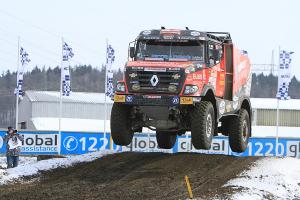 21.3.2018
Czech fans of rally Dakar had a totally unique opportunity. On Sunday at the Sosnová circuit near Česká Lípa, grand meeting of Czech crews and machinery took place - all associated with the famous race. 4th edition had the strongest line-up in history, including almost complete crews of domestic participants. And MKR Technology trucks, for the first time, were part of it. Dutch pilot Martin van den Brink also paid a visit.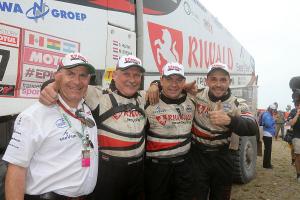 21.1.2018
It's over! 40th edition of Dakar Rally is history. In the end Russian driver Eduard Nikolaev took the win, but north-bohemian truck from MKR Technology team has done a great job. The truck driven by Gerd Huzink took seventh place in the ranking. Two Czech trucks made to the top 10 - the one by MKR and fifth overall with Martin Macík.