After 24 long hours, Huzink reached the bivouac
17.10.2023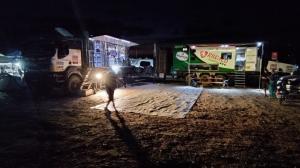 It took all night and all day to find and get the truck of the Dutch pilot Gert Huzink to the bivouac in Zagora. The crew of the North Bohemian special truck was stuck deep in the dunes during Sunday's 2nd stage of the Morocco Rally. The crew missed Monday's stage, but even with a high penalty, the team wants to repair the truck and make impact in the next stage.
"We've had an extremely difficult twenty-four hours, and other similarly difficult moments are still ahead of us. We couldn't find a way to pick up Gert with the support truck and transport him to the bivouac. He managed to get there only on Monday in the early evening. Furthermore, we will do our best to start the next day," said Mario Kress from the North Bohemian design team MKR Technology, exhausted.
Monday's 3rd stage started and finished in Zagora. During it, the crews completed a loop of 444 km, of which 336 km were timed. While the Chvalín truck of the Dutch Riwald Dakar Team was waiting to be rescued, the Czech crew of Martin Macík, who also holds the overall lead in the race, was aiming for another victory in the stage. The second man of the stage, the Dutchman Janus van Kasteren, already got behind Macík on Monday. But Gert Huzink's crew and support team did not give up. His truck with a significant penalty still is included in the overall ranking and the technicians of his Renault intend to prepare it for the start of the 4th stage on Tuesday. It will take the participants from Zagora for 426 km to Merzouga. The timed section will have a challenging 351 km.
Results – 3rd stage (Zagora - Zagora) 336 km:
1. Macík (CZE) Iveco 3:33:21
2. van Kasteren (NLD) Iveco +7:10
3. Becx (NLD) Iveco +17:34
4. van Loon (NLD) Iveco +45:24
5. Wingemans (NLD) Iveco +54:21
9. Huzink (NLD) Renault Trucks +20:26:39
Overall:
1. Macík (CZE) Iveco 12:11:57
2. van Kasteren (NLD) Iveco +1:33:38
3. Becx (NLD) Iveco +1:43:14
4. Doorman (CZE) Ford +2:47:27
5. Zuurmont (NLD) +3:28:17
9. Huzink (NLD) Renault Trucks +40:37:40