After bronze, van den Brink moves to second place
20.4.2019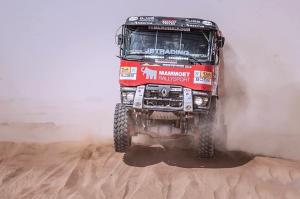 Both North-Bohemian trucks from MKR Technology finished in the elite five in the penultimate 7th stage of the Morocco Desert Challenge. Pilot Martin van den Brink is bronze, Gert Huzink fifth.
"On the night before the stage, we changed the gearbox, which behaved in a bit tricky way and we wanted to be on the safe side that it wouldn't let us down unexpectedly. At two in the morning I was driving with the truck some fifty kilometres test drive to know that everything was fine and we would be fully prepared for the morning start, "Daniel Kozlovsky, Mammoet Rallysport's on-board technician, was describing, what the crew had to do before the start 7. stage.
The penultimate timed section from Merzouga to Bouarfa was not only supposed to be the longest, but also in the biggest dunes, when the crews started with north-south crossing of the highest dunes of Morocco in Erg Chebbi. "To be honest, the dunes were high, but not as high as on the January Dakar, so it was OK for Martin, who felt very good in the dunes. In the hard river beds it was worse. This is a terrible payload. On the other hand, the last part was really fast in the WRC style, "saidKozlovsky.
Van Genugten on Iveco was the fastest pilot. Renault Trucks from Židovice with Kozlovsky and van den Brink came bronze, less than three minutes behind the winner. After another three minutes, his partner from Riwald Dakar team Gert Huzink finished on fifth place.
Before the final stage, Viazovich with MAZ is in the lead, but Martin van den Brink has already moved up to second place. Gert Huzink is eight on the leaderboard.
Now the 219km-long last stage from Bouarfa to Oujda and Saidia is on the menu. "It will be very fast and difficult to navigate. We must not underestimate it. And I believe that at the end of the stage we will be standing on the podium,"Daniel Kozlovský is looking forward to the final finish.
Results - Stage 7 (Merzouga, Bouarfa, 435 km):
1. van Genugten (Iveco) 06:07:56
2. Vishneuski (MAZ) +0:34
3. van den Brink (Renault Trucks) +2:52
4. Versluis (MAN) +4:22
5. Huzink (Renault Trucks) +6:42
Overall:
1. Viazovich (MAZ) 33:45:06
2. van den Brink (Renault Trucks) +27:13
3. Versluis (MAN) +29:51
4. Vishneuski (MAZ) +31:29
5. Voerman (MAN) +46:14
8. Huzink (Renault Trucks) +2:25:32