After the longest stage Huzink in on the ninth place
19.1.2018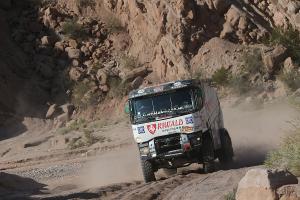 During the 12th racing day the teams of Dakar Rally had to handle a longest timed stage. Russian Nikolajev returned to the overall lead after a day spent lower in the ranking. But his lead is just a single second. Gerd Huzink, riding a north Bohemian Renault Trucks special already aimed to the podium, but he was blocked by a punctured tire.
"This is really a hard luck. We could have taken another podium this year, what is more, in the longest stage, but getting this valuable score was set back by a punctured tire. On the other hand, we were lucky that it was really just a tire, as Dakar this year is a real scrapyard," smiled Mario Kress, north Bohemian designed of MKR Technology center.
The 12th stage from Fiambalá to San Juan with 523 timed kilometers was the longest racing part of the 40th Dakar year. In total almost eight hundred kilometers awaited for the teams. Huzink fought up to the podium position, but he had to change the tire before the last but one way point. Enforced break moved him to the sixth position. The stage won his fellow countryman van Genugten and moved to the top five. The stage shuffled with the members of the top ten of overall ranking. Russian Nikolajev moved back to the lead, but his lead is only a second to the Villagra from Argentina. Also Gerd Huzink from Riwald team bettered his position and now he occupies overall ninth place.
To the end of jubilee year of renowned rally only two final stages are left. The penultimate thirteenth stage from San Juan to Córdoba is the second longest transfer with its 929 kilometers. The timed section is almost three hundred seventy kilometers long. By that the teams get to the final city, where the whole race culminates on Saturday. "It will be yet two difficult days, but everyone is incredibly looking forward to Córdoba," added Mario Kress.
Ranking – 12th stage – Fiambalá – San Juan (523 km)
1. van Genugten (Ned) Iveco 7:02:36
2. Kolomý (Cze) Tatra +4:11
3. Nikolaev (Rus) Kamaz +6:21
4. Villagra (Arg) Iveco +7:29
5. Ardavichus (Kaz) Iveco +15:14
6. Huzink (Ned) Renault Trucks +23:11
Overall:
1. Nikolaev (Rus) Kamaz +47:14:31
2. Villagra (Arg) Iveco +0:01
3. Viazovich (Blr) Maz +3:26:14
4. Mardeev (Rus) Kamaz +5:05:15
5. van Genugten (Ned) Iveco +5:23:40
9. Huzink (Ned) Renault Trucks +7:28:52