Both trucks in 4thstage finished in top ten
11.1.2019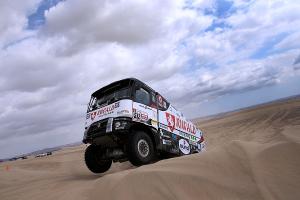 Both North Bohemian Renault trucks from MKR Technology finished in top ten in the 4th stage of the Dakar rally. The crews have prepared a solid ground for the demanding marathon part, where everyone has to rely solely on themselves without the support of a mechanical team. Excellent position also meant an overall shift.
"We are very happy. The guys are driving perfectly, they do not make mistakes and they are ready, not sorry. It is extremely important to stay calm under these extreme conditions. We have finished the second longest special section of this edition, and the longest is just ahead of us, so it's so good that the cars made it to the finish without any bigger scars. Soon there will be a bit of a space to rest, "Mario Kress, lead designer from Židovice summed up the actual situation in South America.
In the first part of the marathon stage, in the fourth day the crews had to cope with the 664 kilometers of race course from Arequipa to Tacno, which included slightly over four hundred of timed kilometers. In this stage, the Dutch pilot Janus van Kasteren driving on Kress' Renault finished in seventh position and less than ten minutes later and two positions behind Gert Huzink crossed the finish line. The stage suited best to Russian Andrey Karginov, which was chased by the young Czech pilot Martin Macík, who finished silver with a loss of a minute and half.
Excellent results also meant a changes in the leaderboard. The race is still lead with the driver Eduard Nikolaev. Macík jumped to fourth position, van Kasteren to eighth and Huzink to twelfth.
Crews now have to rely solely on themselves for the marathon part. On the fifth day, the five-hundred and seventeen kilometers of the longest special section are on the menu. In total, from Tacna to Arequipa, crews will have to cover over seven hundred kilometers, then they will have a day off in the Arequipa bivouac. After that, the 41st edition of the world's most prestigious long distance competition switches into its second half.
4th stage – Arequipa – Tacna (664/405 km)
1. Karginov (Rus) Kamaz 04:09:49
2. Kolomý (Cze) Tatra +1:29
3. Mardeev (Rus) Kamaz +12:47
4. Viazovich (Blr) Maz +13:21
5. Nikolaev (Rus) Kamaz +13:24
7. van Kasteren (Ned) Renault Trucks +19:02
9. Huzink (Ned) Renault Trucks +28:52
Results - overall:
1. Nikolaev (Rus) Kamaz 13:52:04
2. Karginov (Rus) Kamaz +4:58
3. Sotnikov (Rus) Kamaz +8:39
4. Kolomý (Cze) Tatra +28:48
5. de Rooy (Ned) Iveco +1:48:16
8. van Kasteren (Ned) Renault Trucks +2:03:39
12. Huzink (Ned) Renault Trucks +2:55:46