Collection of medals completed in two days
19.4.2017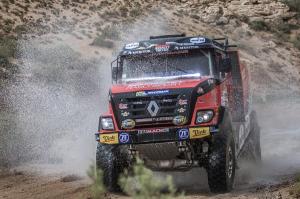 Two stages of the Morocco Desert Challenge were just enough for the Czech trucks from MKR Technology's workshop to complete a medal collection. At the beginning the pilot Martin van den Brink, with the crew mechanic Martin van den Brink onboard, won a bronze medal. In the second stage they managed to win, as their team-mate Gert Huzink added a silver medal. All in all, stage two brought a valuable double podium to them.
In stage one, which stretched over almost four hundred kilometres from Plage Blanche to Icht, both the Dutch pilots of the Renault Trucks specials from Židovice struggled with bad luck – tyre defects. "Martin punched the tyre twice and Gert once, but the latter got stuck in the mud twice and had to be retrieved. At the second attempt the rope broke and they had to wait for more help, losing valuable time. We missed a bit of fortune, but everyone's happy with the technology," commented Mario Kress, chief constructor of both trucks and boss of MKR Aventure.
At the start, Mammoet Rallysport's Martin van den Brink won a bronze medal, finishing fifteen minutes after the winning pilot. First stage was dominated by Portugal's Elisabete Jacinto. Another Renault, piloted by Gert Huzink of Riwald Dakar, concluded the elite five.
Nevertheless, both trucks gave a fantastic performance in stage two between Icht and Foum Zguid, when they did not find a match and occupied two first positions. Gold medal was celebrated by van den Brink, silver by Huzink. "Today proved that our trucks are prepared very well. I am sure this is going to continue," wishes Mario Kress.
After first two racing days of the Morocco Desert Challenge Renault Trucks represented by the Židovice technology centre are in the lead. Van den Brink is followed by Elisabete Jacinto, with third rank occupied by Gert Huzink.
Day three will take the crews from Foum Zguit to Oum Jrane in a 345km stage.
Results – Stage 1: Plage Blanche-Icht (391 km):
1. Jacinto (MAN) 7:33:54
2. Verheyden (DAF) +8:11
3. van den Brink (Renault Trucks) +15:38
4. de Groot (DAF) +41:41
5. Huzink (Renault Trucks) +42:55
Results – Stage 2: Foum - Zguit (361 km):
1. van den Brink (Renault Trucks) 4:19:12
2. Huzink (Renault Trucks) +13:35
3. Bouwens (Iveco) +25:44
4. Jacinto (MAN) +41:57
5. Verheyden (DAF) +1:12:15
Results – Total after stage 2:
1. van den Brink (Renault Trucks) 12:08:44
2. Jacinto (MAN) +26:19
3. Huzink (Renault Trucks) +40:52
4. Bouwens (Iveco) +54:59
5. Verheyden (DAF) +1:04:48