Fans in Sosnová enjoyed grand Dakar meeting
21.3.2018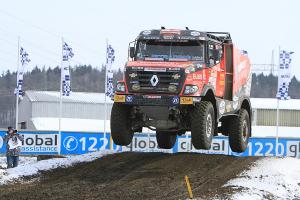 Czech fans of rally Dakar had a totally unique opportunity. On Sunday at the Sosnová circuit near Česká Lípa, grand meeting of Czech crews and machinery took place - all associated with the famous race. 4th edition had the strongest line-up in history, including almost complete crews of domestic participants. And MKR Technology trucks, for the first time, were part of it. Dutch pilot Martin van den Brink also paid a visit.
"Three years we were fighting with the schedule, but we finally made it. I am very pleased, that we could be part of this meeting. We enjoyed it a lot, despite being very cold. It is a very nice event, where is a lot of fans, who love Dakar. For us it is a chance to meet them and talk to them personally. On the other hand, general public can see the machinery in detail, can touch it and there is no stress compared to the races," Mario Kress, the leading designer of MKR Technology was excited about the meeting. He brought two Dakar Renault Trucks specials to Sosnová.
Fans could see not only cab-over-engine K520 truck, but also truck with "CBH" front, aka Sherpa, build for Mammoet Rallysport team. Dutch pilot Martin van den Brink and Czech driver Marcel Sítník were driving the trucks. Daniel Kozlovský, on-board technician from Roudnice nad Labem and another member of the Dakar crew, could not miss the autographing. He then relentlessly went through all the technical aspects of racing and answered a plethora of questions and added practical demonstrations. "It was really great. Totally unique opportunity to talk with the fans, because there is no other way in Czech and there is no time during racing. Here it was really easy-going, relaxing." added on-board technician Daniel Kozlovský.
The pilot themselves are enjoying it as well. The have shown high jumps, but were drifting with the trucks as well. "In fact we can go crazy with the trucks a bit. Here man goes way further than during a race, where you have to focus and concentrate on performance and result." added Martin van den Brink happily.
Sunday in Sosnová not only has shown current Dakar racing machinery, but introduced many other unique vehicles including fully functional and almost identical replicas of famous trucks. Foldable Mobilbars were also present. Big autographing took place in one of them, the other served as a base for MKR Technology team visitors. Heated area was very handy in freezing and windy weather. Many very surprised by driving skills of a talented universal pilot Marcel Sítník. "We met Mario on Dakar as a support team and we had a great conversation. Personally, I was very pleased by the properties of the truck. It is powerful, steers well and responds well to throttle. I always enjoy these events, because they are organized for people and it is very likely that we will meet at different places as well," Marcel Sítník added mysteriously. At last but not the least, Mario Kress unveiled in Sosnová, that for Dakar 2020 his team is preparing a fourth racing truck.