Five is the number in stage five on Silk Way for MKR
11.7.2019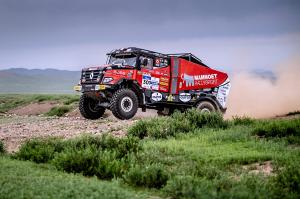 Five was the key number on Thursday the North Bohemian MKR Technology team on the Silk Way Rally. In the 5th stage, the pilot Martin van den Brink arrived fifth and is fifth in the overall standings.
The Silk Way Rally has reached its halfway point on Thursday. Crews have finished five out of ten stages. This time, they had to deal with the pitfalls of typical Mongolian steppes, as well as crossing the plateau at sixteen hundred meters above sea level. "Martin has mastered the stage without any troubles, and he is riding easily. It is a wild landscape, so we all believe that this style will last and we will be shine. There is still a few difficult stages ahead of us, and the gaps are not significant, so it is important not to make an unnecessary mistake,"said Daniel Kozlovský, technician of MKR Technology team.
Russian Karginov was the quickest on the route from Ulaanbaatar to Mandalgovi, he needed two and three quarters of an hour for nearly three hundred and forty kilometres. On Thursday, Kamaz trucks responded to MAZ hattrick on Wednesday. His compatriot, Shibalov, was second at the finish line. The Belarussian leader Viazovich was third with, almost seven minutes later. Martin van den Brink, the pilot of the North Bohemian Renault was in fifth place, lost another five minutes on the Belarussian leader.
Nothing has changed in the overall leaderboard. Viazovich with MAZ is still in the lead and three Kamaz trucks - Shibalov, Karginov and Mardeev are hot on his heels. Martin van den Brink holds the fifth place.
Friday's 6th stage will be the last stage in Mongolia. On Saturday, the crews cross the border into China. On the course from Mandalgovi to Dalanzadgad, is only a few-kilometre transition. The measured special section has over four hundred kilometres. "It will be a quick stretch with wide steppe paths, so it will be very important to be sharp on navigation,"said Kozlovsky.
Results – 5th stage – Ulaanbaatar – Mandalgovi (364/337 km):
1. Karginov (RUS) Kamaz 02:45:28
2. Shibalov (RUS) Kamaz +4:18
3. Viazovich (BLR) MAZ +6:52
4. Mardeev (RUS) Kamaz +7:28
5. van den Brink (NED) Renault +11:35
Overall:
1. Viazovich (BLR) MAZ 12:34:05
2. Shibalov (RUS) Kamaz +16:04
3. Karginov (RUS) Kamaz +18:35
4. Mardeev (RUS) Kamaz +32:06
5. van den Brink (NED) Renault +48:29