Gerd Huzink finished seventh in 40th edition of Dakar
21.1.2018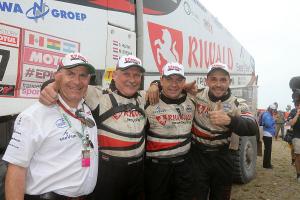 It's over! 40th edition of Dakar Rally is history. In the end Russian driver Eduard Nikolaev took the win, but north-bohemian truck from MKR Technology team has done a great job. The truck driven by Gerd Huzink took seventh place in the ranking. Two Czech trucks made to the top 10 - the one by MKR and fifth overall with Martin Macík.
"Final stage with its hundred and twenty kilometres was more or less symbolic, but you have to keep in mind, that you have not finished until you are at the finish line. Dakar is unpredictable until last kilometre. The gap was minimal and fifth place at the end is fine. We are glad that the last part went well. Gerd has shown, that you have to count with our trucks. This edition was extremely hard and everyone can relief, that we are at the finish line," Mario Kress, leader of MKR Technology team and lead designer can finally relax.
Last 14th stage started and finished at the same place. This year's Dakar finished at Córdoba. Teams had to fight last almost three hundred kilometres, while hundred and twenty of them were part of timed section. Mostly flat terrain around thousand metres of altitude did not change the ranking much. Dutch driver van Genugten took away the stage win. His Dutch fellow in Renault Trucks from North Bohemia finished fifth in the last stage with a gap of less than five minutes. Leader Eduard Nikolaev took fourth place in the final section and became a clear winner. Second Belarusian Viazovich lost almost four hours. Nikolaev's biggest competitor, Argentinian Villlagra, had to retire during penultimate stage while losing just one second, so the Russian driver during the last stage was cruising to a clear win. Gerd Huzink with north-bohemian truck took fantastic seventh position overall. The Dutchman gained one position during the last test.
In the end, north-bohemian MKR Technology design finished the anniversary Dakar with placing in the top ten. He entered the competition with three trucks. During many tricks and twists on the course a pair of Mammoet Rallysport specials had to retire. "You go through many things at The Dakar – rises, falls, strong emotions, absolute exhaustion, joy, desperation. There are moments, when you think, you cannot make it while you know, that you cannot stop. I am happy for the people I am working with and for what we have accomplished together. This was a great test again and we got a lot of valuable data and experience. This Dakar is slowly over and we can slowly relax," Mario Kress is summarizing 40th edition of Dakar.
Results – 14th stage – Córdoba – Córdoba (120 km)
1. van Genugten (Ned) Iveco 1:39:47
2. Macík (Cze) Liaz +0:11
3. Sotnikov (Rus) Kamaz +3:35
4. Nikolaev (Rus) Kamaz 04:17
5. Huzink (Ned) Renault Trucks +4:55
Overall:
1. Nikolaev (Rus) Kamaz +54:57:37
2. Viazovich (Blr) Maz +3:57:17
3. Mardeev (Rus) Kamaz +5:22:34
4. Ardavichus (Kaz) Iveco +6:38:22
5. Macík (Cze) Liaz +7:58:45
7. Huzink (Ned) Renault Trucks +9:19:23