Huzink celebrated his return to the race with a bronze
18.10.2023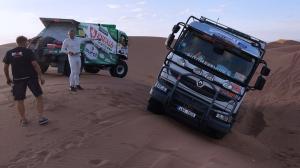 The North Bohemian MKR Technology team has had two sleepless nights at Rally Morocco. That's exactly how long it took for the team of technicians to reach their damaged truck, piloted by Gert Huzink, and then makes it back to the bivouac from the treacherous dunes. But the Dutchman repaid them with the best result of the year, when he fought his way to the coveted podium in the 4th stage.
"No one can imagine what they are racing on here. After one of the many hits, the right front suspension of the wheel was fatally damaged and it was not possible to continue further in the stage. With our 28-tonne service Renault Kerax we went on a rescue mission into the middle of the desert. After some 18 hours of suffering in the dunes, we found the boys and started our work," David Sova, member of the MKR Technology mechanical team, described the hardships during the race. And he continued: "The job, which takes five to six hours in the workshop, we managed in the unstable dunes at a temperature of 45°we finished in seven. On the way to the bivouac, however, darkness caught us and we drowned the service vehicle in a funnel between the dunes. The next five hours we spent finding our way out in the dark. We were completely spent both physically and mentally."
While the service truck did not get out of the dunes until Tuesday morning, their racing special truck with the crew of Riwald Dakar Team managed a smaller service check in the bivouac in Zagora and then started for the penultimate 4th stage. This led the field after 426 km to the final destination of Merzouga. The timed section, which was dominated by the Dutchman van Kasteren, measured 343 km. "There were a limited number of technicians left in the bivouac. They did the maximum possible inspection before the start, but Gert still had to drive more carefully. Even so, he completed the stage in the third best time, which only confirms the fact that the car just goes, but luck has eluded us. So far, we've always dropped out from the front positions," chief designer Mario Kress shook his head.
Only one final 5th stage – a 152 km long loop with the start and finish in the small village of Merzouga in south-eastern Morocco is ahead of the racing field... The ceremonial presentation and closing of this year's edition will also take place here on Wednesday.
Results – 4th stage (Zagora – Merzouga) 343 km:
1. van Kasteren (NLD) Iveco 4:15:35
2. Macík (CZE) Iveco +1:40
3. Huzink (NLD) Renault Trucks +11:15
4. Becx (NLD) Iveco +23:18
5. Zuurmont (NLD) MAN +1:10:37
Overall:
1. Macík (CZE) Iveco 16:29:12
2. van Kasteren (NLD) Iveco +1:31:58
3. Becx (NLD) Iveco +2:04:52
4. Doorman (CZE) Ford +4:19:40
5. Zuurmont (NLD) +4:37:14
8. Huzink (NLD) Renault Trucks +40:47:15