In eight Moroccan stages MKR team got twelve podium placings.
25.4.2018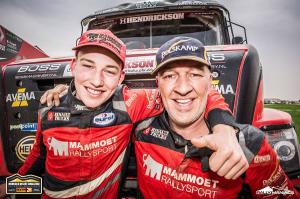 Golden hattrick on Morocco Desert Challenge for MKR Technology team was not happening this year, but the gap was very small – less than 24 minutes. Truck of the Renault Trucks team with Dutch pilot Martin van den Brink finished second after two years of victory. Majority of stage wins confirms that anniversary 10th year belonged to those exceptionally successful.
"We were very close to victory. Of course, it is a pity, but we were not chasing a no-name racer, we can be satisfied. We were continuously racing on first two positions and all our trucks were in front. We have confirmed, that we are part of the top teams and now we can look forward to and prepare for another race, which will be the famous Silk Way Rally,"summarized Mario Kress, lead designer of MKR Technology team from Northern Bohemia, which prepared a trio of trucks for Morocco.
In Morocco, two crews of Dutch Mammoet Rally Sport team with Mart van den Brink and Janus van Kasteren started in Renaults from Židovice. Along with them friendly team from Riwald Dakar with Gert Huzink took place in the race as well. Demanding desert stages including the infamous dunes of Erg Chebbi were part of the programme, as well as technical sections and fast courses in WRC style. The race started on the Atlantic coast on Plage Blanche and lead along Algerian borders towards Mediterranean Sea. Altogether almost two and half thousand kilometres with zero transitions to bivouacs divided into eight stages. Organizers added one special section compared to last year's edition. "We definitely like this style. It is great, that the stages end directly at the bivouac, where technicians are already prepared. They can even have some rest. Comparing to Dakar, everything is less hectic and more family-like,"added Mario Kress.
North-Bohemian trucks were shining right from the beginning. Initial prologue was won, bit surprisingly, by the younger Mammoet Rally Sport driver, Janus van Kasteren, when his "boss" Martin van den Brink took bronze and Gert Huzink added seventh place. Van den Brink took gold in the next test and got an overall lead, which he then lost in 3rd stage, which was won by Czech driver, Aleš Loprais. Van den Brink on fourth position lost almost forty minutes due to loose front wheel. "Fortunately, the crew has stopped in time, but the burning hot brakes prevented it from doing anything sooner, so the guys lost around half an hour waiting at that place. In fact this only stop caused, that we failed to defend third title in a row. But that's rally. There is no point saying what if. We have to focus on next races and try to do as few mistakes as possible", stated Mario Kress.
Since stage three Martin was holding second position, which he held to the finish at Oujda. But until this time Renault Trucks drivers have won a majority of stages. From six race tests they owned six stages, Martin van den Brink and Janus van Kasteren, each of them taking three wins. Van den Brink with Gerd Huzink added a silver medal each, van den Brink with van Kasteren added another two bronzes each. Twelve medals in total - six golds, two silvers and four bronzes. Not to mention that drivers four times took very unpopular fourth place.
In the end Aleš Loprais took the overall win. While between other pilots there were gaps of several hours, Martin van den Brink on second position lost only twenty-three minutes and thirty one seconds. Janus van Kasteren finished sixth and Gert Huzink was the most unlucky racer in the whole race, he had several punctures and technical issues. "The most important thing is, that everybody is safely back and the results are clearly showing, that all three trucks can race in the front. We are satisfied with the changes we made at Dakar. Big change for us for the change of position of stabilizers. In Morocco the cars got big pounding, so it was a big test which we have passed. Now we will be focusing on Silk Way,"Mario Kress is looking forward to Russia.
Results – Morocco Desert Challenge 2018:
1. Loprais (Tatra) 33:11:49
2. van den Brink (Renault Trucks) +23:31
3. Verheyden (Daf) +5:21:07
4. Vrátný (Tatra) +5:32:51
5. Timmermans (DAF) +6:24:33
6. van Kasteren (Renault Trucks) +7:33:44
15. Huzink (Renault Trucks) +38:58:36