In the penultimate Dakar stage, de Baar attacked the podium again
14.1.2023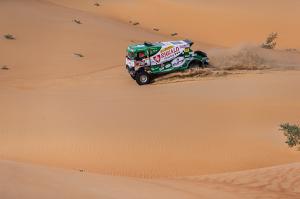 Just outside the podium again! North Bohemian truck pilot Pascal de Baar finishes in the penultimate 13th stage of the 45th Dakar Rally in fourth place. He got to the front despite starting from the back after narrowly missing his start on Friday and not being allowed into the stage.
"Pascal was taking over one car after another today. The truck worked perfectly for him and in the end he fought his way to fourth position, which is not only a great result, but also a great starting position for Sunday's start, when we will try again for the podium," designer Mario Kress holds his fingers crossed for the crew of the truck with number 507.
Into the penultimate 13th stage, de Baar started from the last positions because before Friday's marathon stage he had to unexpectedly change the compressor unit gasket, which was causing overpressure in the cooling system. Because of this, he arrived 9 minutes late to the start and was no longer allowed into the stage. Although the crew no longer had ambitions for the overall result, Friday's penalty moved them to fifteenth overall. Therefore, he entered Saturday's stage with the desire to show the power of his truck and his riding skills. The last dunes of the Empty Quarter, the fourth largest sand desert in the world, were waiting for the riders. De Baar once again excelled in them. The crews had to travel almost seven hundred kilometers from the start in Shaybah to the bivouac in Al-Hofuf. Martin Macík managed the one hundred and fifty kilometer timed section the fastest. The second pilot of the Riwald Dakar Team, Adwin Hoondert in a quick assistance, finished fourteenth with his Renault.
After Saturday's performance, Macík moved to second place in the overall ranking, and is losing an hour and a quarter to the Dutchman van Kasteren. Adwin Hoondert is twelfth and Pascal de Baar fifteenth.
The legendary long-distance race will arrive in Dammam on Sunday. The last four hundred kilometers and exactly 136 kilometers await the crews, which will decide the overall ranking. The jubilee 45th Dakar will thus close on the coast of the Arabian Gulf. On the program is a fast beach special, which, according to its profile, does not leave much room for big changes in the ranking.
Results - Stage 13 (Shaybah - Al-Hofuf) 154 km:
1. Macík (CZE) Iveco 3:02:43
2. van Kasteren (NLD) Iveco +3:25
3. Valtr (CZE) Tatra +10:31
4. Pascal de Baar (NLD) Renault Trucks +14:56
5. de Groot (NLD) Iveco +16:11
14. Adwin Hoondert (NLD) Renault Trucks +54:15
Overall:
1. van Kasteren (NLD) Iveco 52:38:58
2. Macík (CZE) Iveco +1:16:42
3. Martin van den Brink (NLD) Iveco +2:43:03
4. Mitchel van den Brink (NLD) Iveco +4:08:23
5. Valtr (CZE) Tatra +5:10:24
12. Adwin Hoondert (NLD) Renault Trucks +25:31:40
15. Pascal de Baar (NLD) Renault Trucks +55:50:31