Introduction of a simulator, tests in Almería and then Morocco
5.4.2018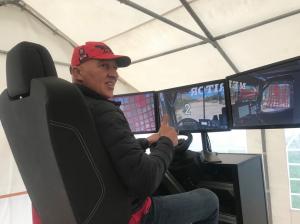 Presentation in Lyon, tests in Almería and attempt for golden hatrick in Morocco Desert Challenge. This is how actual programme of MKR Technology looks like. The programme started on Easter. Rally, which after big changes in the last year, has taken second position, right behind the famous Dakar and demanding Silk Way, starts next week and trio of North-bohemian trucks will try to defend their crown and get third win in a row.
"It will be damn hard. Rally has gone much more high-profile and competition will be strong. Organizers continue in the same trend as last year, where there are no neutral zones. So every km counts. But we like this concept. There is a lot of racing involved and it is a sort of a return to old classic Dakar. I believe in our success," tells Mario Kress, chief designer of MKR Technology construction team.
Morocco Desert Challenge, which was been known as Libya Rally until last year, will start on 15th April in magical Plage Blanche. Until that time the team is really busy. Set off into southern Spain for last tests. These will commence during this weekend in Almería, around port city surrounded by mountains and semi-arid climate. "We will focus mostly on heat dissipation in high altitudes and we will make final performance measurements of the whole system," added Klára Kress, MKR Technology manager.
On Wednesday, the night before the start of the test, the team stopped in French Lyon. In Renault Trucks factory, Martin van den Brink had autographing as a part of a ceremony, when Dakar simulator was opened. The simulator is a computer game released by Renault Trucks, and North-bohemian trucks from MKR Technology are part of it.
Trio of special trucks from Židovice will start on Morocco Desert Challenge this year and they will start with the same line-up as on Dakar - two Dutch Mammoet Rally Sport trucks with Martin van den Brink and Janus van Kasteren and third truck of Riwald Dakar Team with Gert Huzink. But the race has one notable début. This time in the cockpit there will be no on-board technician Daniel Kozlovský, but his sixteen year old son, Mitchel van den Brink. Mitchel has been racing in motocross since he was twelve, has had a drifting racing licence for two years and only two months ago he got a Dakar licence from FIA. Dutch navigator Wouter de Graaf was his coach. In the Renault Trucks CBH truck, aka Sherpa, family crew will be driving for the first time ever.
Morocco Desert Challenge is building on last years' changes. Anniversary 10th edition will once again be coast to coast. After Friday and Saturday technical handovers the race will start on Sunday (Apr 15th) on the virgin beach of Plage Blanche near Atlantic coast and will culminate a week later on the Mediterranean coast. The race will go along borders with Algeria in beautiful parts of Morocco, far from touristy areas. Organizers are promising big adventures and surprises, fast courses, but also technical sections, vast African plains, even more sand dunes, salt lakes, but also legendary traverses of real Dakar. Desert bivouacs are ready. There is one extra stage compared to last year and all special sections are prepared so that the crews will enjoy the biggest possible part of Moroccan landscape. Long story short - new roadbooks, new bivouacs, 8 new stages, 2.403 km zero neutral zones, pure rally.
Morocco Desert Challenge 2018
Stage 1 - 15.4. – prologue Plage Blanche (77 km)
Stage 2 - 16.4. - Plage Blanche – Touzounin (470 km)
Stage 3 - 17.4. – Touzounin – La Dune du Juif (335 km)
Stage 4 - 18.4. - La Dune du Juif – Fezzou (310 km)
Stage 5 - 19.4. - Fezzou - Merzouga (275 km)
Stage 6 - 20.4. - Merzouga - Boudnib (306 km)
Stage 7 - 21.4. - Boudnib - Maarka (410 km)
Stage 8 – 22.4. – Tendrara – Oujda (220 km)