Leg three of Silk Way Rally tainted by loss
11.7.2017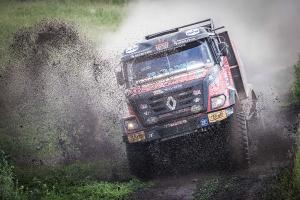 Crews of the Czech Renault trucks will not think back happily on stage three of the Silk Way Rally. In it Martin van den Brink lost the lead and his two Dutch colleagues from the allied Riwald team virtually any chances of a solid result. Moreover, it is not yet clear whether they will be able to continue the race at all. MKR Technology's mechanics team promised to try their best overnight to prevent the world's toughest rally from ending prematurely for either of the two.
"One day we enjoy victory only to experience fall the very next. That's what rally's like. It comes as no surprise to any of us, but it's definitely upsetting. Anything can happen at any given moment, and so it's always too soon to celebrate here. We must not whine that the day has not turned out how we wanted though, we must keep on working hard to make sure that we've got a reason to celebrate again," says Mario Kress, boss of the Czech MKR Technology constructors team, with typical determination.
While in stage two Martin van den Brink recorded a win and moved up to the top of the ranking, he did not reach higher than tenth place in stage three. "The track was extremely muddy and soaked with water and Martin had problems with the bearings. In spite of that he finished the stage with a minor loss only," explained Mario Kress why van den Brink's Czech-Dutch crew, including the Roudnice based mechanic Daniel Kozlovský, fell short of expectations this time, finishing the stage about half an hour later than the winner Sotnikov from Belarus.
On third racing day stage from Ufa to Kostanay had been planned for the teams, who had to complete 876 km in total, out of which 330km were formed by the special section. Leg three also marked the end of Russian mission for the crews, as they entered Kazakhstan. However, unexpected trouble stopped both trucks of the Riwald team piloted by Pascal de Baar and Gert Huzink. "We're still waiting for more information, which will come as soon as the crews reach the bivouac. Final decision will be made during the night service. Once again the Silk Way proves how rough it can be, but we're determined to fight to the last breath,"comments MKR Technology executive Klára Kress.
After leg three leader position is held by the Czech Kolomý. Technical problems made van den Brink drop to eighth place overall, where he is losing by a 22-minute margin.
The first on Kazakh ground and simultaneously the longest one in this year's route plan, stage four will be split in two sections. The crews will have to tackle more than nine hundred kilometres, including over three hundred and seventy km comprised by special sections.
Results – leg 3 (330 km):
1. Viazovich (Blr) Maz 3:33:13
2. Kolomý (Cze) Tatra +0:55
3. van Genugten (Ned) Iveco +3:39
4. Sotnikov (Rus) Kamaz +4:34
5. Mardeev (Rus) Kamaz +5:27
10. van den Brink (Ned) Renault 28:51
1. Kolomý (Cze) Tatra 6:45:07
2. Shibalov (Rus) Kamaz +2:40
3. Sotnikov (Rus) Kamaz +5:13
4. Mardeev (Rus) Kamaz +8:21
5. van Genugten (Ned) Iveco +10:41
8. van den Brink (Ned) Renault +22:18