MKR started Moroccan rally with a winning tune
16.4.2018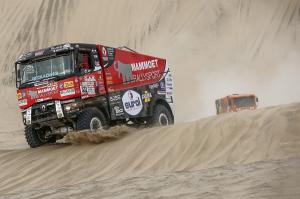 First stage, first victory. MKR Technology team has started Morocco Desert Challenge rally in an excellent way. Dutch pilot Janus van Kasteren from Mammoet Rallysport team was the fastest man on the course. Martin van den Brink, his team-mate, crossed the line on bronze position.
"We could not have hoped for better start. The fact is, that Janus probably surprised everyone, including himself. He went through stage smoothly without any hesitation. It's great to have two pilots on the podium and believe that this situation will continue", MarioKress, lead designer of winning trucks, was satisfied.
MKR Technology team from Northern Bohemia, for this anniversary 10th edition, prepared a trio of race trucks with Dutch pilots Martin van den Brink, Janus van Kasteren and Gert Huzink. Crews first had to go through technical check-in in Agadir. The rally started with a 250km prologue from Agadir along legendary Plage Blanche. In late afternoon, crew had to go through 80 timed kilometres, which were first in the WRC style, then a fifteen km in a massive canyon and last twenty-five kilometres took place on a white virgin beach, where the organizers prepared a huge bivouac, so that everyone could enjoy this legendary place. And once again, North-Bohemian trucks started big. Janus van Kasteren took the victory, with almost a minute advantage over second Aleš Loprais. Team-mate Martin van den Bring took the third spot on the podium. The last of the North-Bohemian trio of racing specials, piloted by Gert Huzink took seventh place in the prologue. "We have been enjoying this place and when we are continuing in past successes, it is even better. But the rally has just started and the second will be very hard, so we have to focus on the best possible performance, so at the end of it we have a real reason to celebrate," Daniel Kozlovský, technician from Roudnice of the MKR Technology team remarked.
Second stage will be the longest from this year's edition. The crews will have to tackle 470 km from Plage Blanche to Touzounin. After starting on the beach, the crews will go east over Dray river. Sandy a stony surface will be switching in the stage. There will be rocky ascends, dry salt lakes, fast and technical traverses and empty desert with breath-taking landscape.
Results – 1st stage (prologue 77 km):
1. van Kasteren (Renault Trucks) 47:25
2. Loprais (Tatra) +0:58
3. van den Brink (Renault Trucks) +1:19
4. Teun Van Dal (Scania) +2:22
5. Vrátný (Tatra) +2:42
7. Huzink (Renault Trucks) +3:25