MKR triumphs in leg two of Silk Way Rally
10.7.2017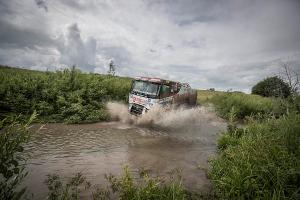 Here we go again! As early as in stage of two of the challenging Silk Way Rally celebrate the MKR Technology team a win! The Dutch pilot Martin van den Brink arrived at the finishing line in Ufa in the fastest time, swiftly moving up to the lead of the overall ranking.
"We slightly lost in the first stage, but simply because we didn't take any unnecessary risks. The trucks are prepared very well and Martin's result proved that today. He did a great job and we're all excited about the win. I believe we'll keep up the good work but I'm also aware the days ahead will be crazy," commented Mario Kress, author of the MKR Technology project.
Leg two from Tcheboksary to Ufa had nearly eight hundred kilometres,out of which 157km were taken up by the racing special. Van den Brink and his Renault Trucks machine reached the finish in two hours and nine minutes. The win was well deserved also by his crew mechanic, the Roudnice native Daniel Kozlovský. His fellow countryman de Rooy lost by a 2-minute margin, with Ardavichus from Kazahstan following him on third place one minute later. Another Renault from the Czech R&D centre piloted by Gert Huzink occupied eighth position (+ 13:07). Bad luck befell the third MKR Technology crew and the pilot Pascal de Baar, as their truck ended up lying on the side following a u-joint problem. "Everyone's fine, but what exactly happened and what is the scale of the technical issue we're dealing with is yet to be seen. I don't want to make any assumptions, but we'll do everything we can to put Pascal back on track at least," said the constructor Mario Kress.
The stage win moved Martin van den Brink up the overall ranking, and so the total podium now reflects the winners' podium from stage two. Gert Huzink occupies rank nine; unfortunately, De Baar had to be towed to the finish. Although he officially ranked on eighteenth place in the stage, the penalty took away even the slightest chance of overall success from the crew, who are on 17th place in the total ranking.
Leg three from Ufa to Kostanay will be extremely demanding. The teams will tackle 876km distance, including a 330km special, which can definitely mix up the total ranking.
Results – leg 2 (157 km):
1. van den Brink (Ned) Renault 2:09:45
2. de Rooy (Ned) Iveco +2:04
3. Ardavičus (Kaz) Iveco +3:17
4. Shibalov (Rus) Kamaz +4:07
5. Sotnikov (Rus) Kamaz +4:57
8. Huzink (Ned) Renault +13:07
18. de Baar (Ned) Renault +1:40:15
Overall ranking:
1. van den Brink (Ned) Renault 3:05:20
2. de Rooy (Ned) Iveco +0:13
3. Ardavičus (Kaz) Iveco +1:31
4. Shibalov (Rus) Kamaz +2:26
5. Kolomý (Cze) Tatra +5:38
9. Huzink (Ned) Renault +14:46
17. de Baar (Ned) Renault +53:38:30