Penultimate den at Dakar and Huzink is eighth!
20.1.2018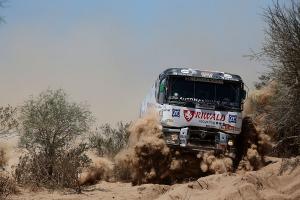 Anniversary Dakar heading to finish! Teams have just tackled penultimate stage into finishing city of Córdoba, where Dakar will close this edition on Saturday. In 13th stage, despite technical problems, north-bohemian MKR Technology truck with Gerd Huzink has managed to climb into overall 8th place.
"Gerd had to fight with fallen chain of an alternator, which cost him more than an hour. But the truck has made it to the finish line and is ready for the final stage. We are looking forward to the finish line" stated Mario Kress, lead designer of north-bohemian MKR Technology team, from South America.
Teams got into finishing town of Cordoba during penultimate 13th stage. Dakar will conclude its 40th chapter there. Right before that, teams had to go through second longest day, when they had to tackle almost nine hundred and thirty kilometres with almost three hundred and seventy kilometres long special section. Russian leader Eduard Nikolaev has won the stage and strengthen his lead. Second-ranked man, Argentinian Villagra faced how hard Dakar can be. He had to withdraw prematurely due to technical issues. He was just one day and gap of one second on the Russian leader from a lifetime result. Gerd Huzink after solving troubles which he encountered along the way, has finished on thirteenth position "Dakar is showing how hard and cruel it can really be. Nothing is for sure, until you are at the finish line, which we could have seen at Villagra. It's cruel, but that is Dakar. You will not make it without a dose of luck. I know this by myself, " Mario Kress speaks the truth.
Only one day and only one stage to the final end. Teams start and finish 14th stage in Córdoba. Last 286 kilometres is on the menu. Timed special section is exactly hundred and twenty. North-bohemian truck will start from eighth position. Nikolaev is determined to go for the victory with almost 4hour gap over Belarusian Viazovich.
Results – 13th stage – San Juan – Córdoba (369 km)
1. Nikolaev (Rus) Kamaz 05:59:02
2. Mardeev (Rus) Kamaz +0:50
3. Kolomý (Cze) Tatra +6:06
4. Viazovich (Blr) Maz +27:45
5. Sotnikov (Rus) Kamaz +32:54
13. Huzink (Ned) Renault Trucks +1:34:53
Overall:
1. Nikolaev (Rus) Kamaz +53:13:33
2. Viazovich (Blr) Maz +3:53:59
3. Mardeev (Rus) Kamaz +5:21:05
4. Ardavichus (Kaz) Iveco +6:36:37
5. Sugawara (Jap) Hino +7:59:48
8. Huzink (Ned) Renault Trucks +9:18:45