Penultimate stage in Morocco sees both pilots on podium
23.4.2017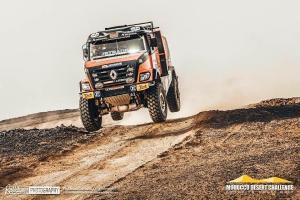 Also in stage six of the Morocco Desert Challenge both pilots of the North Bohemia based MKR Technology team got to the winners' podium. Martin van den Brink finished on second and Huzink on bronze position, respectively.
With four hundred kilometres in total sixth day of the rally was the longest special of this year's event. This time it was very fast and so the pilots had to go full throttle right from the beginning. "For us monitoring any changes is essential. After what we've been through in the races and during testing we don't want to underestimate anything. Moreover, thanks to the headstart we have there's no need to push the technology one hundred percent. Safety is essential, so if the pilots aren't happy with anything, we prefer to slow down and lose a minute here and there rather than the lead," shared the constructor Mario Kress his strategy.
The decision to slow down was made by Martin van den Brink, who hac teamed up with the Roudnice based mechanic Daniel Kozlovský, in the last fifty kilometres, which eventually cost him another stage triumph. This time the laurels were collected by Elisabete Jacinto. Van den Brink recorded silver and Huzink bronze medal. Differences in the fast stage were only minimal.
Therefore, no change occurred in the top of the ranking, as both Renault Trucks drivers beat the rest of the starting field. The current leader is Martin van den Brink of Mammoet Rallysport, followed by his fellow countryman Gert Huzink of Riwald Dakar. The winner of the Saturday stage, Jacinto is maintaining the bronze position.
There is one last stage to go before Martin van den Brink can defend his triumph from the last year. The seven-day journey through Morocco, from the Atlantic Ocean to the shore of the Mediterranean is almost over. The concluding bit is 180km-long special to the finish in Oujda. Winners will be announced in Saidia.
Results – Stage 6 : Merzouga - Tendrara (405 km):
1. Jacinto (MAN) 5:53:11
2. van den Brink (Renault Trucks) +9:03
3. Huzink (Renault Trucks) +14:17
4. van Kasteren (DAF) +23:18
5. de Groot (DAF) +29:30
Overall:
1. van den Brink (Renault Trucks) 31:05:18
2. Huzink (Renault Trucks) +1:32:36
3. Jacinto (MAN) +2:17:55
4. Bouwens (Iveco) +6:13:12
5. Verheyden (DAF) +6:34:10