Silk Way Rally ends prematurely for MKR
12.7.2017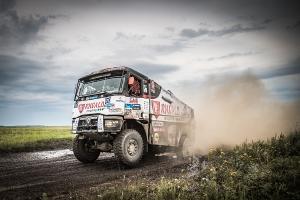 Like in a bad dream. The Russian Silk Way, currently known as the world's toughest rally, has ended too soon for the MKR Technology constructors team. In leg four of the race technology decided to stop working, regardless of the prospects of a solid result that the team had until then. Unfortunately, they will not get the chance to defend the podium result from last year, as they are going back home with only one stage win.
"Martin proved again that together we are able to beat the competition. Fortune did not favour us this time, though. We have to admit that we've still got lot to learn in off-road races," commented Mario Kress, boss of MKR Technology, thinking about the introductory part of this year's longest stage.
Leg four was over nine hundred kilometres long and took place entirely on Kazakh ground. Perhaps noone from MKR Technology will forget the route from Kostanay to Astana. After Martin van den Brink started, things were looking just fine. From thirteenth place he worked his way up to the very top, leaving de Rooy and the Russian kamaz trucks behind him. However, despite a great start he did not add another gold triumph to the collection. Similar to his colleagues Pascal de Baar and Gert Huzink of the Riwald team van den Brink was betrayed by technology. The team spent the night working on their trucks to enable them to start in Tuesday stage. "We focused mainly on the turbo system and cooling. Everything was working well and nothing suggested such an unpleasant surprise would come this soon," shakes his head in disbelief Mario Kress. "We're not able to determine exactly what happened. However, trouble with engines forced us to end the rally prematurely," commented Kress, who has won multiple trophies in circuit truck racing. "This is rally, something completely different. We've only been working four years on developing the technology. Yes, we've successfully won some great trophies already, but there's still lot to work on. We do miss the years of experience in off-road. More than anything else, rally is about luck. Until you are at the finishing line, anything can happen, no matter how well you are prepared," says Mario Kress, refusing to cry over spilt milk.
The whole team has moved to Astana, where they will have to deal with logistic issues now. This year of the renowned Silk Way Rally ends much earlier than they hoped. "Yes, we're disappointed, because in terms of power, we've got what it takes. Before the rally we were working hard day and night, in two shifts, in order to eliminate all risk and prepare as best as we could. You sort out one problem and a new one comes around. That's why you have to keep looking forward at all times, focus on new goals and the success that may come with them. And eventually, there will be success," promised the always determined boss of MKR Technology Mario Kress.
Results – Leg 4 (371 km):
1. Kolomý (Cze) Tatra 3:45:50
2. de Rooy (Ned) Iveco +0:21
3. Ardavichus (Kaz) Iveco +1:56
4. Nikolaev (Rus) Kamaz +8:02
5. Mardeev (Rus) Kamaz +10:54
DNF van den Brink (Ned) Renault
DNF de Baar (Ned) Renault