Stage ten increases intervals, Pascal remains on rank five
13.1.2017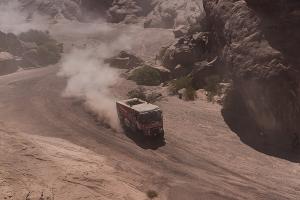 Stage ten of the Dakar Rally made the gaps between the individual teams' rankings substantial bigger. The ultimate winner is not yet known, but the lead of the race is already getting sharper outlines. Pilot of the Czech Renault Trucks truck Pascal de Baar continues to hold on to fifth rank.
"Though eventually cancelled by the organizers due to a landslide, the previous stage was extremely rough. Transfer to the next start was a never-ending story for all of us," reminded us Mario Kress, boss of the MKT Technology constructing team, of the events that preceded Thursday's stage ten.
After all the 'misfortunes' of the tenth stage the crews had to complete a total of 751 kilometres from Chilecito to San Juan, out of which 449 made up the timed special, which was further divided into two sections this time. The long special gave the co-pilots an opportunity to demonstrate their skills. Even more so since the track was extremely broken. Russia's Eduard Nikolaev on a Kamaz got to the lead from the very start and stayed there until the end of the stage. Martin van den Brink on a Renault made a solid result as well. The Mammoet Rallysport's pilot was on seventh position when passing the penultimate checkpoint. Eventually, he and his colleague Pascal de Baar arrived followed one another right after the top ten, losing half-an-hour on the winner. Martin finished on twelfth and Pascal on thirteenth position, respectively. "Both pilots were slowed down by punched tyres. Martin had trouble with the navigation at the beginning and lost a little over fifteen minutes as a result. Pascal got a hit from another truck. These are not major losses, but of course we could have finished a few ranks higher. Anyway, we remain optimistic, because we definitely have what it takes to go faster," commented Mario Kress.
Thanks to the tour de force in stage ten Nikolaev is now the overall leader with a seven-minute headstart after beating his fellow countryman Sotnikov. De Rooy on the third is losing over twenty minutes. Rank five currently belongs to Pascal de Baar with a special from Židovice in northern Bohemia. His team-mate van den Brink with Daniel Kozlovský on the board is on ninth position overall.
There are two stages to go at the 38th Dakar. The crews have to tackle a little over 1,500km before reaching the finish in Buenos Aires. After they had descended from high altitudes, on Friday they are about to cut off another 754km of the remaining distance in stage eleven. The penultimate special stretches over 288km and will be in a WRC style. "Stage ten was a really jumpy one. These conditions made the Kamaz trucks faster, but the next stage could a whole new ball game…," said Mario Kress with a sly smile.
Dakar 2017
Results – stage 10 (Chilecito - San Juan, 449 km):
1. Nikolaev (Rus) Kamaz 5:33:06
2. Sotnikov (Rus) Kamaz +7:01
3. Mardeev (Rus) Kamaz +7:41
4. Viazovich (Blr) Maz +12:51
5. Loprais (Cze) Tatra +16:04
12. van den Brink (Ned) Renault Trucks 33:41
13. de Baar (Ned) Renault Trucks +34:59
31. Llovera (And) Tatra +4:33:55
Overall:
1. Nikolaev (Rus) Kamaz 23:27:12
2. Sotnikov (Rus) Kamaz +5:15
3. de Rooy (Ned) Iveco +24:17
4. Villagra (Arg) Iveco +57:47
5. de Baar (Ned) Renault Trucks +1:18:47
25. Llovera (And) Tatra +14:12:58
29. van den Brink (Ned) Renault Trucks + 24:30:48