The Dakar finished with two MKR Technology trucks
15.1.2023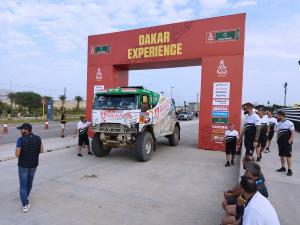 The battle is over! This year's 45th edition of the Dakar Rally reached its destination in Dammam after two difficult weeks. Although the crew of the North Bohemian truck from the MKR Technology workshop wanted to end the jubilee year on the podium, and they succesfully started the last stage that way, the explosion of the hose to the "turbo" eventually stopped them for more than quarter of an hour. The number of podium positions in the last fourteenth stage therefore did not increase. MKR Technology trucks were on the podium four times and won two stages.
The last race test from Al-Hofuf to the destination Dammam brought only worries instead of final joy. De Baar's truck was chasing the coveted podium in a muddy flat stage along the coast of the Arabian Gulf when a turbo hose suddenly loosened and the crew had to stop and re-fasten it with new clamps for a successful finish. "I find it unbelievable what could have happened to us this year. Luck is simply an integral part of success in the Dakar and it was like a swing for us. But the boys performed brilliantly and they deserve a big thank you for their commitment. Even in those desperate moments, they always managed to do even more, they fought," MKR Technology team designer Mario Kress paid tribute to the entire team and crews.
Every minute counted in the fast final stage, which was only 136 kilometers long. Although the crew managed to quickly fix the fault, the total loss of nineteen minutes after crossing the finish line meant that the truck was classified in sixteenth place. The second of the teammates from Riwald Dakar Team, Adwin Hoondert, was twelfth in the quick assist. Lithuanian Paskevicius won his first victory in the last part of this year's Dakar with the Tatra.
Although the last 14th stage was supposed to be a quick and symbolic point, it still managed to confuse many. However, there have been no significant changes. The overall winner in the truck category was the Dutchman Janus van Kasteren, also a former North Bohemian Renault pilot. Czech Martin Macík defended silver behind him, followed by father and son Martin and Mitchel van den Brink in third and fourth place. Adwin Hoondert finished the race just a little behind top ten in twelfth position with a quick assist and after all the hardships Pascal de Baar was fifteenth. "We have experienced our share. We encountered a number of technical problems, but we also showed that without them we are able to compete with the best and fight for the podium," Dutch pilot Pascal de Baar concluded the jubilee 45th edition of the legendary Dakar rally competition.
Results - 14th stage (Al-Hofuf) 136 km:
1. Paskevicius (LTU) Tatra 1:18:34
2. Mitchel van den Brink (NLD) Iveco +0:07
3. Valtr (CZE) Tatra +1:46
4. Bouwens (BEL) Iveco +2:50
5. Martin van den Brink (NLD) Iveco +3:20
12. Adwin Hoondert (NLD) Renault Trucks +14:55
16. Pascal de Baar (NLD) Renault Trucks +19:26
Overall:
1. van Kasteren (NLD) Iveco 54:03:33
2. Macík (CZE) Iveco +1:14:34
3. Martin van den Brink (NLD) Iveco +2:40:22
4. Mitchel van den Brink (NLD) Iveco +4:02:29
5. Valtr (CZE) Tatra +5:06:09
12. Adwin Hoondert (NLD) Renault Trucks +25:40:34
15. Pascal de Baar (NLD) Renault Trucks +56:03:56