The Quartet of North Bohemian Renaults is heading to the last stage
17.1.2020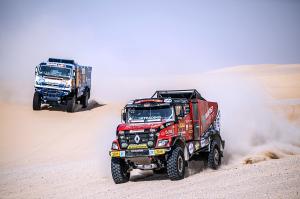 All four North Bohemian trucks from MKR Technology handled again the very penultimate difficult stage of this year's 42nd Dakar Rally. What is more, both riders of the Dutch Riwald Dakar team brought their trucks in the top ten.
"There is no point in taking any risks now. No one would gain anything by that, but we could still lose a lot and we want to get to the finish in the complete line-up. Guys are taking it more safely, cautiously. In the end, Dakar is very treacherous, many crews have learned that today. The ranking is constantly changing and those who are fighting for the lead of the overall race can still lose a lot. On the contrary, our boys are now more stopping and helping crews in trouble," commented Mario Kress, North Bohemian racing truck designer from MKR Technology team.
In the penultimate 11th stage, when the crews from Shubaytah to Haradh finished the two-day marathon stage, the Russian Andrei Karginov dominated again with his Kamaz. The timed speed check of three hundred and eighty kilometers he managed in four and three quarters of an hour, ahead of fellow countryman Sotnikov. This time, Kamaz won the first four places, but two of the Židovice Renaults were in the top ten. Gert Huzink with his closely watched hybrid finished eighth, his partner Pascal de Baar was tenth. Firemen from their Dakar team were classified as seventeenth and Martin van den Brink of Mammoet Rallysport finished nineteenth. In the Haradh bivouac, after nearly seven hundred and fifty kilometers, the entire quartet again met with their teams of technicians.
The leader of the overall classification remained unchanged. The Russian Karginov is guarding the first place in front of his partner Shibalov and Belarus Viazovich. The thirteenth position belongs to the Renault from Židovice with the pilot Richard de Groot. "Now it looks like we are very close to the finish. Until we reach our goal in Qiddiya, I will not evaluate anything, but I can already say that we have managed to get a lot of important and valuable data, I am proud of all the guys who worked hard day and night and a big goes to the crews. It will help us all with further development, which is, especially for the hybrid, in the initial stages. So, let's make the last stage happen so we can finally relief," Mario Kress is looking forward to the final day.
The last 12th stage from Haradha to Qiddiye will be very challenging. The final part is a total of four hundred and fifty kilometers and the special timed section is "only" 167 kilometers, but the organizers promise that the navigators will have a same headache as in the past week combined.
Results - 11. stage - Shubaytah - Haradh (376km):
1. Karginov (RUS) Kamaz 4:44:51
2. Sotnikov (RUS) Kamaz +1:27
3. Shibalov (RUS) Kamaz +3:25
4. Nikolaev (RUS) Kamaz +4:18
5. Viazovich (BLR) MAZ + 12:14
8. Huzink (NED) Renault + 22:11
10. De Baar (NED) Renault +36:14
17. De Groot (NED) Renault +1:25:11
19. van den Brink (NED) Renault +1:40:53
1. Karginov (RUS) Kamaz 45:04:55
2. Shibalov (RUS) Kamaz +39:33
3. Viazovich (BLR) MAZ +1:52:14
4. Sotnikov (RUS) Kamaz +2: 49:37
5. Macik (CZE) Iveco +3:25:27
13. De Groot (NED) Renault +10:06:35
22. van den Brink (NED) Renault +36:14:28
23. Huzink (NED) Renault +41:10:05