To conclude Morocco, Van Kasteren adds a gold
22.4.2018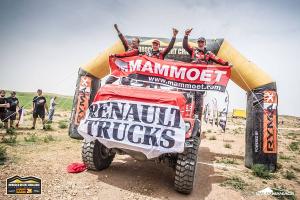 The last stage and also the last victory. Trucks of the north Bohemian team scored well again in Morocco. Two of the pilots got a podium position of the last 8thstage and the third one was right after them. For the overall win, twenty three minutes were missing that Martin van den Brink could not eliminate any more.
"The last stage was not that long and difficult to allow us to eliminate twenty six minutes, but till you are behind the finish line, anything can happen, so we went to our limits. In the end, Martin had to slow down because of a damaged shock-absorber, so we reduced Loprais` lead just slightly and in the final ranking it is a nice second place. We wanted a third victory in a row, but for that you need a full combination of all circumstances,"summarized the mechanics from Roudnice, Daniel Kozlovský.
The final stage brought the teams to the final Oujda, where the mission from Atlantic ocean to the Mediterranean sea ended. After two hundred twenty kilometers the victory was celebrated by Renault Trucks with Janus van Kasteren. Young pilot of Mammoet Rally Sport team reached in terms of stage victories his 'boss' Martin van den Brink that also gained three stage wins. In the final stage he finished as a bronze one and by that he is the only one from Židovice trucks that has a full medal collection from this year. In between both team mates ended another Dutchman, Roeland Voerman on MAN, who spoilt the north Bohemian designer team of MKR Technology The occupation of the whole podium. On the fourth position finished the third of the Renaults with Gert Huzink from Riwald Dakar team. Final day ended therefore outstandingly.
The north Bohemian truck perform well in Morocco. The world`s third most difficult race was won by Martin van den Brink twice in the last two years. To the golden hattrick he missed this time exactly 23 minutes and 31 seconds, that gained a Czech pilot Aleš Loprais. Van den Brink finished as the second, his mate van Kasteren the sixth and this year`s worst luck, Gert Huzink, the fifteenth. "Even if we did not manage to gain the victory, we can for sure be satisfied. The trucks managed to standardly go on the first two places. Of course, the competition is not as strong as on Dakar, but the results are really great. We managed to test new elements. We processed the position of stabilizers and it turns out that we made another giant step forward,"concluded satisfied Daniel Kozlovský from MKR Technology.
Results – 8thstage (Matarka - Oujda, 220 km):
1. van Kasteren (Renault Trucks) 2:00:44
2. Voerman (MAN) +3:05
3. van den Brink (Renault Trucks) +5:53
4. Huzink (Renault Trucks) +8:52
5. Loprais (Tatra) +8:57
Overall ranking:
1. Loprais (Tatra) 33:11:49
2. van den Brink (Renault Trucks) +23:31
3. Verheyden (Daf) +5:21:07
4. Vrátný (Tatra) +5:32:51
5. Timmermans (DAF) +6:24:33
6. van Kasteren (Renault Trucks) +7:33:44
15. Huzink (Renault Trucks) +38:58:36