Truck from Czech dominate in Morocco Desert Challenge
24.4.2017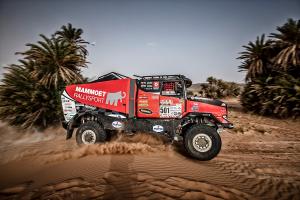 Even better than last year! Trucks built by the Nort Bohemia base MKR Technology have overruled the Morocco Desert Challenge rally. Not only did the Czech-Dutch crew led by the pilot Martin van den Brink and the Czech mechanic Daniel Kozlovský defend overall victory, the team of the pilot Gert Huzink added silver medal to the collection.
This year of the Morocco rally could be summed up in one sentence – first come MKR Technology trucks, then the rest of the world. Martin van den Brink has highlighted his campaign with a victory at the end. Stage seven, which had been already planned as the shortest one, had to be shortened some more due to torrential rains. As a result, after one hour fifteen minutes the Renault crew could celebrate. Time gaps between the teams were only minimal, and so the natural forces caused that other names popped up on front ranks. Second and third in the concluding stage were the Belgian Bouwens and Dutch Voerman, respectively. As a result of bad lack and a leaking front right tyre Van den Brink's team mate had to stop, recording his worst result in the race, thirteenth place.
However, last stage did not affect the overall result. Mammoet Rally Sport's Van den Brink takes home gold medal and Gert Huzink from Riwald Dakar adds silver. On the winners' podium the duo of pilots racing with Renault Trucks specials constructed by MKR Technology was accompanied by the Portuguese Elisabete Jacinto. "The technology was working flawlessly. In the racing field we deal with some occasional trouble, but this time the luck favoured us and we steered clear of any major problems. If only the Dakar would turn out this way someday," hints Daniel Kozlovský, crew mechanic of the winning team, at the prestigious race. "This rally had a great preparation and the routes were picked very well. We even managed to enjoy the beautiful landscape, and overall win boosts all those impressions some more," comments Kozlovský, smiling.
This year's Morocco Desert Challenge replaced last year's Libia Rally. The organizers have abandoned the concept of taking the crews from one coast to another, where they were racing from the Atlantic to the Mediterranean, and set out a new route with zero liaisons. Subsequently, all stages started and finished in a bivouac.
Results – Stage 7: Tendrara - Oujda (208 km):
1. van den Brink (Renault Trucks) 1:14:28
2. Bouwens (Iveco) +2:16
3. Voerman (MAN) +3:43
4. Jacinto (MAN) +5:25
5. van Werven (Ginaf) +7:33
13. Huzink (Renault Trucks) +19:02
Overall:
1. van den Brink (Renault Trucks) 32:19:45
2. Huzink (Renault Trucks) +1:51:38
3. Jacinto (MAN) +2:23:20
4. Bouwens (Iveco) +6:15:28
5. Verheyden (DAF) +6:51:32