Trucks from North Bohemia add another double win in Morocco
20.4.2017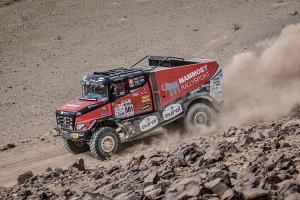 Sensational! Crews from the North Bohemia based MKR Technology take home a second consecutive double win. Third stage of Morocco Desert Challenge has repeated the result of the second. The Dutch Martin van den Brink and his fellow countryman celebrated gold and silver medal, respectively. Moreover, the winning Renault is carrying the Roudnice based mechanic Daniel Kozlovský onboard.
"After the first double we said that technology was in a great shape and very-well prepared. The same success just one day later has only confirmed this statement, so this trend should actually continue right to the finish," commented Mario Kress jokingly. In a more down-to-earth manner, Kress added: "Hardly, every rally is about luck and it would be wring getting ahead of ourselves. In technical terms, we made an advancement, but in desert and off-road one never knows what comes next, so until we get to the finish we are still just race participants. If nothing unforeseeable happens though, I have a firm belief in our success. The guys are doing everything in their power for it."
Stage three prepared a nearly 350km long track from Foum Zguid to Oum Irane for the teams. The route leading them through diverse natural environments, including vast planes, the dried up bed of Lake Iriki or the Erg Chigaga dunes and the fine fesh fesh dust. The organizers promised differences in the teams' performance would show in stage three and they were right. The winner Martin van den Brink on a Renault Trucks was the only one to cross the finishing line in under five hours. His team mate Gert Huzink lost by a twenty-minute margin, while third in the row, Elisabete Jasinto, arrived almost an hour late. In total the results put the North Bohemia specials on first two positions overall. Van den Brink solidified his lead and his countryman Huzink from the allied Riwald Dakar team.
Also the upcoming stage four from Oum Jrane to Merzouga, which stretches over two hundred and seventy kilometres, will require exceptional driving skills. In it the crew will be crossing Erg Chebbi, an area of Morocco's highest sand dunes, and most importantly breath-taking natural wonders, where the dunes change colour during the day, ranging from pink to gold to crimson red.
Results – stage 3: Foum Zguid – Oum Jrane (347 km):
1. van den Brink (Renault Trucks) 4:59:11
2. Huzink (Renault Trucks) +23:07
3. Jacinto (MAN) +57:24
4. Bouwens (Iveco) +1:11:29
5. Verheyden (DAF) +1:18:46
Overall:
1. van den Brink (Renault Trucks) 17:07:55
2. Huzink (Renault Trucks) +1:03:59
3. Jacinto (MAN) +1:23:43
4. Bouwens (Iveco) +2:06:28
5. Verheyden (DAF) +2:23:34