Trucks took guests in a quarry
14.9.2018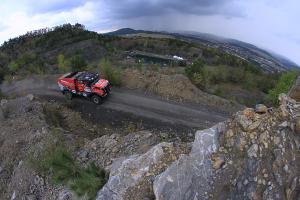 More than six hundred guests from Europe, Russia and Qatar experienced the feelings of Dakar crew. 4th edition of Renault Trucks & MKR Technology Adventure days 2018 took place in the past week. This unique event took place in Czech for the first time. Dakar racing special trucks by Mario Kress design team from Northern Bohemia were introduced near Kosov quarry near Beroun.
"For us it was another great event, where we have demonstrated our great relationship with Renault Trucks. With them we have prepared these days for the first time. We started with few days and nowadays it is a demanding week. We are always trying to have every week a bit different, but it were our Dakar trucks that have brought the right experiences. And I think we are successful at that, because from what I have heard, consumers were satisfied and got some very strong experiences" told Klára Kress, MKR Technology team manager.
Due to high demand, the race special trucks were running literally around the clock, which served as a good test of extreme load of the machinery. Guests could sit in cockpits of all three trucks by MKR Technology. Martin van den Brink with Gert Huzink were also alternating at the steering wheel.
After three previous editions, which took place in Slovakia, Renault Trucks customers were heading into new environment. The event took place in Czech for the first time, namely in Kosov quarry near Beroun. Guests have packed program here as well. Customers were able to test technical drives with the truck, racing simulator or in special workshops they could discuss about technical innovations of Renault trucks. The event, being annually organized jointly by Renault Trucks Central East and MKR Technology team, is totally unique event, that is second to none in Europe. "To our consumers we are offering unusual adventure. We are proud that our event is completely unprecedented and wholly original Thanks to this we get many from all over the world, because they would not get similar event anywhere in the world" Klára Kress remarked.