Van den Brink adds eighth place this time on Silk Way
26.7.2018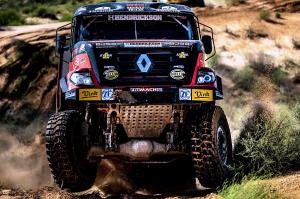 Martin van den Brink lost an hour and half in the 5th stage of the Silk Way Rally. The Dutch pilot of the North Bohemian truck took eighth place this time. The program offered the longest special section of this year, and the crews were tested indeed again.
After loops of Astrakhan, where the crews were "roaming" over the past four days, the race moved to Volgograd. The trucks have made over five hundred and fifty kilometres, where four hundred forty were timed sections. The previous stage has been shortened by organizers for safety reasons due to heavy rains. It was Martin van den Brink, who got stuck on a course full of water today. A Russian Kamaz eventually pulled Martin out of mud. On top of it, Forty kilometres before the finish line, the crew had to change a broken tire. This time, it was the 8th place when the stage was dominated by Kamaz trucks, that literally reign on the Silk Road. Karginov won, ahead of Nikolaev, Shibalov, Mardeev and Sotnikov. The leader Sotnikov almost lost his lead. Now he is only 44 seconds ahead of the compatriot and the winner of stage Karginov. In overall standings, Dakar winner of 2015 Airat Mardeev is on third place.
On Thursday comes the longest crossing of this year measuring 766 kilometres. However, timed section has 317 kilometres. The crews will get from Volgograd to Lipetsk. The sixth special section begins with winding steppe and sandy paths. In the middle of the speed section, the crews will cross the northernmost desert of Europe - the sands of Don-Archeda.
Results - Stage 5 - Astrakhan - Volgograd (552/366):
1. Karginov (Rus) Kamaz 04:27:48
2. Nikolaev (Rus) Kamaz +2:30
3. Shibalov (Rus) Kamaz +2:43
4. Mardeev (Rus) Kamaz +7:14
5. Sotnikov (Rus) Kamaz +19:19
8. van den Brink (Ned) Renault +1:32:59
Overall:
1. Sotnikov (Rus) Kamaz 20:35:38
2. Karginov (Rus) Kamaz +0:44
3. Mardeev (Rus) Kamaz +11:44
4. Kupriyanov (Rus) Kamaz +54:49
5. Shibalov (Rus) Kamaz +56:40
11. van den Brink (Ned) Renault + 216:25:38