Van den Brink finished fifth in Stage 3
10.7.2019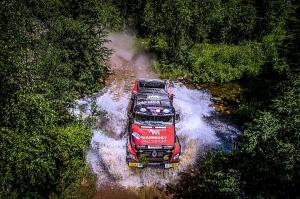 Russian Karginov dominated the third stage of the Silk Way Rally. In the most demanding long-distance race of the world, the Dutch pilot of North Bohemian truck Martin van den Brink dealt with the special section in fifth best time. He is fourth overall.
"The stage was hilly and on a hard sandy and rocky foundation. We are deliberately limiting performance to save the engine in such conditions and not to load it more than necessary. The car is repaying it back and Martin is doing great, as he has lost very little time today on the winner. In the end, however, he had some collision and we have to change the entire front axle, "said Daniel Kozlovský, technician of the North Bohemian team MKR Technology, who is preparing special racing Renault truck for the Dutch pilot of Mammoet Rally Sport.
Stage 3 on Tuesday brought crews from Russia to Mongolia. They all had to travel seven hundred kilometres on the route from Ulan-Ude to Ulaanbaatar. The timed section had almost two hundred and fifty kilometres and Russian pilot Karginov, Dakar winner in 2014, was the fastest. In fifth place, with a gap of just over seven minutes, Martin van den Brink reached the finish line his Renault CBH, aka Sherpa. However, in the overall ranking it still the same. Belarussian pilot Viazovich remains in the lead with a four-minute gap on Karginov. Van den Brink if fourth, fourteen minutes back.
Wednesday's 4th stage, with its four hundred and seventy kilometres is the second longest timed section of this year's edition. In total, the crews will have to drive only six kilometres more, as the support is staying in Ulaanbaatar, where everyone will be returning. "In Mongolia, the roads are crazy. Practically all the time you drive on hard roads without tarmac. The fact that we are in a bivouac for two days is a dream. We can work on the car all night and then rest a little, "added Daniel Kozlovský.
Results – 3rd stage – Ulan-Ude – Ulaanbaatar (691/243 km):
1. Karginov (RUS) Kamaz 2:26:10
2. Shibalov (RUS) Kamaz +2:08
3. Viazovich (BLR) MAZ +3:41
4. Mardeev (RUS) Kamaz +6:05
5. van den Brink (NED) Renault +7:24
Overall:
1. Viazovich (BLR) MAZ 5:34:05
2. Karginov (RUS) Kamaz +4:16
3. Shibalov (RUS) Kamaz +6:05
4. van den Brink (NED) Renault +13:51
5. Mardeev (RUS) Kamaz +17:37