Van den Brink finished fourth in Silk Way Rally
16.7.2019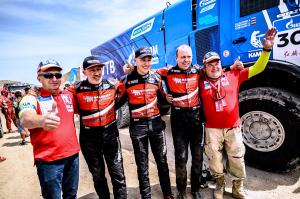 It's over! Racing trucks crossed the finish line. This year's Silk Way Rally ends. Only Martin van den Brink, pilot of the North Bohemian Renault from MKR Technology, could compete with the domination of Russian Kamaz trucks. He finished 6th in the last 10th stage on the 6th place and has taken 4th place in overall standings.
"We have fulfilled our plan. We wanted to be overall in the top five and we did it. We have made a number of changes and we were able to test them. I admit that we have somewhat degraded the engine's performance, which, of course, has influenced the speed, but it is essential for us to finish the race and work on the lifetime and reliability of the truck. Martin was doing great job and the whole team worked great, so I'm happy because we still have the potential to progress and I think we're going in the right way,"said Mario Kress, leading designer of Renault CBH racing truck, with which pilot Martin van den Brink has just completed a prestigious Silk Way Rally.
The final stage from Jiayuguan to Dunhuang was over five hundred and fifty kilometers in total. The special timed section had two hundred and fifty five kilometers. The Russian Anton Shibalov was the fastest in this section on top of being the overall winner. Only half a minute later, his colleague Kamaz, Andrei Karginov, reached the finish line. Martin van den Brink arrived sixth.
In the final ranking, there are four Kamaz trucks in the elite five, only the North Bohemian Renault is in between them. But they have not made it to the podium. Shibalov won, ahead of Karginov and Mardeev. Renault Truck nicknamed Sherpa was fourth with a loss of less than two and a quarter hours. It consisted of crew - pilot Martin van den Brink, technician, his son, Mitchel van den Brink and navigator Wouter de Graaff. The fourth Kamaz with Sergei Kuprianov was fifth, behind the Dutch lineup by another two hours.
This year, the crews had to deal with ten challenging stages at the Silk Way Rally, which started in Russia and led through Mongolia to China. The crews had to cover 5007 kilometers in total, 2593 of them were timed sections. Out of nine editions, the Kamaz pilots were able to win eight. Sergei Viazovich with MAZ was able to end their dominance, but after the crash in Stage 8, his race ended prematurely and Shibalov took the lead, winning his first Silk Way Rally.
Results – 10th stage - Jiayuguan - Dunhuang (556/255 km):
1. Shibalov (RUS) Kamaz +2:36:28
2. Karginov (RUS) Kamaz +0:34
3. Vishneuski (BLR) MAZ +12:14
4. Vasilevski (BLR) MAZ +14:34
5. Mardeev (RUS) Kamaz +14:36
6. van den Brink (NED) Renault +18:02
Overall:
1. Shibalov (RUS) Kamaz 26:01:40
2. Karginov (RUS) Kamaz +25:22
3. Mardeev (RUS) Kamaz +52:05
4. van den Brink (NED) Renault +2:13:07
5. Kuprianov (RUS) Kamaz 4:12:41