Van den Brink gets a golden hattrick in Morocco
22.4.2018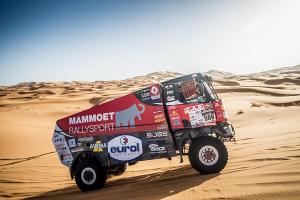 Pilot of the north Bohemian truck, Martin van den Brink, gets a golden hattrick. The Dutchman dominated also the last but one 7thstage of Morocco Desert Challenge and it is his third win on this difficult rally this year. He again managed to reduce slightly the lead of the overall leader, but almost half an hour is still a large difference before the final stage.
"Initially, Martin ended as a second one, but his time was reduced by five minutes, so he moved to the first position, gaining his third win this year,"reported from Morocco contentedly Daniel Kozlovský, Roudnice mechanics from MKR Technology team.
The second longest stage from Boudnib to Matarka, over four hundred kilometers long, was started greatly by van den Brink. In the end the second one, Czech pilot Aleš Loprais, lost only four and half minutes. What is more, bronze went to the team mate from Mammoet Rally Sport, Janus van Kasteren. This penultimate day was outstanding for the north Bohemian Renaults. However, bad luck went to Gert Huzink, who lost a hose from turbo and broke the flange. The Dutchman from the team Riwald Dakar got twenty hours of penalty that moved him to the twenty fourth place in the stage.
In the program of anniversary 10thyear of Marocco Desert Challenge is just the final 8thstage from Tendrara to Oujda, two hundred twenty kilometers long. The difficult path will require absolute concentration and perfect navigation. "Still we must not underestimate anything. We will celebrate after going across the finish line. The loss is above human skills to eliminate, but when there is still a chance to win, we have to focus on the best possible result,"does not give up the Mario Cress` designer team of Židovice that prepares the truck to its best possible shape. Second van den Brink loses twenty six minutes to the leading Loprais. Van Kasteren is the sixth and Gert Huzink the seventeenth in the overall ranking.
Results – 7thstage (Boudnib – Matarka, 410 km):
1. van den Brink (Renault Trucks) 4:50:20
2. Loprais (Tatra) +4:32
3. van Kasteren (Renault Trucks) +7:02
4. Voerman (MAN) +12:51
5. Jacinto (MAN) +21:35
24. Huzink (Renault Trucks) +24:32:40
Overall ranking:
1. Loprais (Tatra) 31:02:08
2. van den Brink (Renault Trucks) +26:35
3. Verheyden (Daf) +5:09:25
4. Vrátný (Tatra) +5:29:08
5. Timmermans (DAF) +6:14:12
6. van Kasteren (Renault Trucks) +7:42:41
17. Huzink (Renault Trucks) +38:58:41