Van den Brink has only last stage of the Silk Way to go
16.7.2019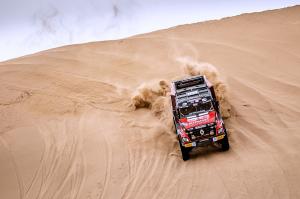 Only one stage is left until the end of this year's Silk Way Rally. The penultimate 9th stage, Martin van den Brink, the pilot of the North Bohemian truck, finished in fourth position and is on the same position in the overall standings. This has around five hundred kilometers.
"In the previous stage, Martin complained that there was some knocking noise in his cabin. We found out that it was a suspension, so we had to replace it. All in all, al. Is well. Martin is really careful and is driving safely. He knows that the advantage of Kamaz trucks ahead of is hard overcome, so the main focus is not lose an enjoyable cushion he has over the other crews behind him, and he is doing well,"said Daniel Kozlovský, technician of the North Bohemian design team MKR Technology, who is in charge of the racing special truck of Mammoet Rallysport team with Martin van den Brink.
The penultimate stage on the ninth day was five hundred kilometers long and led from Alashan to Jiayuguan. Special stage had nearly three hundred kilometers and where three Kamaz trucks were the fastest trucks on the course. The combination of sand dunes with fast gravel roads was best handled by the leading Russian Shibalov, followed by his colleagues Karginov and Mardeev. The Dutchman Martin van den Brink and his Renault arrived just below the podium. Behind him was Belarussian Vasilevski with MAZ.
The victorious Shibalov just strengthened his leading position. The second Karginov is trailing nearly twenty-five minutes, the third Mardeev is back by thirty seven minutes. Martin van den Brink is fourth, with Vasilevski behind with three hour gap.
There is only the final 10th check from Jiayuguan to Dunhuang over five hundred and fifty kilometers. The measured special section is almost half of the distance and the crews will first get over the mountains and head for the finish line. "Now we have nothing to lose and the last stage suit us well, so I believe the best will come to an end,"said Daniel Kozlovsky.
Results - Stage 9 - Alashan - Jiayuguan (501/290 km):
1. Shibalov (RUS) Kamaz 4:03:15
2. Karginov (RUS) Kamaz +8:52
3. Mardeev (RUS) Kamaz +11:25
4. van den Brink (NED) Renault +34:42
5. Vasilevski (BLR) MAZ +38:21
Overall:
1. Shibalov (RUS) Kamaz 23:25:12
2. Karginov (RUS) Kamaz +24:48
3. Mardeev (RUS) Kamaz +37:29
4. Van den Brink (NED) Renault +1:55:05
5. Vasilevski (BLR) MAZ +5:03:11