Van den Brink is already third overall
19.4.2019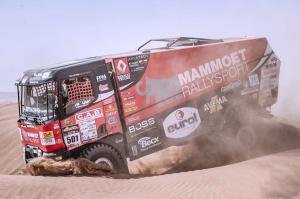 The pilot Martin van den Brink finishes in the elite five again. However, in overall standings, he is third after stage 6 of the Morocco Desert Challenge. His compatriot Huzink is in the top ten.
"We started third and the first few kilometres was good. But then we ran into troubles with gearbox again. It started to switch into free-wheeling mode. It happened, maybe ten times in about five km. It's terrible that everything was fine for the test drive, but than it happened again in the race. We thought we have already solved this problem, that we had met the day before. Fortunately, it helped to restart the unit. It didn't happen again, but we're still nervous about it. Should it happen at other times, it could be dangerous" said on-board technician Daniel Kozlovský about the struggles the Mammoet Rallysport crew had to go through during the stage.
During the sixth racing day, crews had to tackle three hundred and twenty kilometres from Zagora to Merzouga. Racers spent some fifty kilometres in the dunes. "The first dune part came after a hundred and fifty kilometres. There we lost a bit of time when we had to drive around one of the dunes. On the contrary, in the second dune passage we gained some ground. It's much more fun when you are overtaking others "Kozlovský smiled, arriving in the fifth fastest time with his pilot Martin van den Brink. Martin lost a quarter of an hour to the victorious Vishneuski. This time, Gert Huzink, his colleague from Riwald Dakar team, struggled with navigation and in the and passed the finish line on twelfth position three quarters of the hour behind the winner. "Guys supposedly lost perhaps forty minutes." On top of this they had to change a tire. So it was a real bad day, but it's so easy to get lost here"said Kozlovský.
The overall classification is still lead by the Viazovich with MAZ. Van den Brink on third position is losing half an hour. Gert Huzink fell to the ninth position.
Friday's penultimate 7th stage from Merzouga to Bouarfa is special in many ways. With 427 km, it is the longest stage this year and the biggest dunes are waiting for the crews as they will begin with the north-south crossing of the highest dunes of Erg Chebbi, followed by another dune part in Erg Znaigui.
Results - Stage 6 (Zagora - Merzouga, 324 km):
1.Vishneuski (MAZ) 04:51:23
2. Viazovich (MAZ) +2:20
3. Versluis (MAN) +15:14
4. Fazekas (Scania) +15:27
5. van den Brink (Renault Trucks) +16:07
12. Huzink (Renault Trucks) 45:09
Overall:
1. Viazovich (MAZ) 27:23:08
2. Voerman (MAN) +30:35
3. van den Brink (Renault Trucks) +38:23
4. Versluis (MAN) +39:31
5. Vishneuski (MAZ) +44:57
9. Huzink (Renault Trucks) +1:51:55