Van den Brink took a tumble from a dune
9.1.2019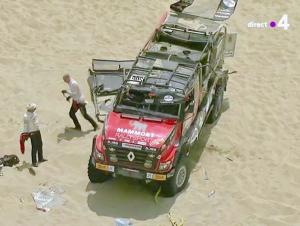 That it would be one of the toughest Dakars that the crews have ever experienced, organizers were promising before it even began. Martin van den Brink, Dutch pilot of the North Bohemian truck, felt it on his own and literally took a tumble from one of the dunes with his racing truck. His colleagues Huzink and van Kasteren arrived in the second decade of the results.
Ubiquitous sand and treacherous dunes right from the very beginning of the 41st Dakar Rally are present on every special section. After all, the sandy ground has to make up for seventy per cent of the entire race, and just one of the dunes has surprised the crew with the pilot Martin van den Brink. Even though the racing team was able to get into pieces, turn the truck back on its wheels and continue with a big loss, its further participation is unclear. "Although the boys are slowly continuing to bivouac, we do not know yet how big the damage is and whether we will be able to repair it at all,"said Mario Kress, lead designer of the Dakar specials from Židovice in North Bohemia. His other two trucks have done significantly better. After a more cautious ride, Gert Huzink arrived fifteenth and Janus van Kasteren just two places behind him.
The crews had to deal with traps on the route from Pisco to San Juan de Marcona, with a total length of over five hundred and fifty kilometres, where three hundred and forty were special sections. In the 2nd stage, Russian Eduard Nikolaev once again was unstoppable. He has won second stage back to back and is also an overall leader. However, less than three minutes later, the Dutchman de Rooy arrived and moved to a silver medal.
On the third day, the racing field awaits almost eight hundred kilometres from San Juan to Arequipa. Special section makes three hundred and thirty kilometres.
Results - 2nd stage – Pisco – San Juan de Marcona (553/342 km):
1. Nikolaev (Rus) Kamaz 03:47:51
2. de Rooy (Ned) Iveco +2:39
3. Sotnikov (Rus) Kamaz +5:28
4. Villagra (Arg) Iveco +6:30
5. Mardeev (Rus) Kamaz +17:23
15. Huzink (Ned) Renault Trucks +49:18
17. van Kasteren (Ned) Renault Trucks +1:09:30
van den Brink (Ned) Renault Trucks +
Results - overall:
1. Nikolaev (Rus) Kamaz 04:56:56
2. de Rooy (Ned) Iveco +4:23
3. Villagra (Arg) Iveco +7:23
4. Sotnikov (Rus) Kamaz +9:01
5. Mardeev (Rus) Kamaz +21:25
14. Huzink (Ned) Renault Trucks +1:01:33
17. van Kasteren (Ned) Renault Trucks +1:22:12
van den Brink (Ned) Renault Trucks +