Van den Brink was in stage 4 held back by punctures
10.7.2019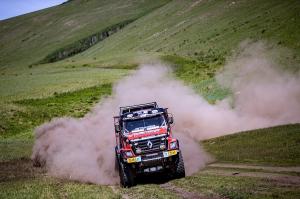 Belarussian riders with MAZ owned the 4th stage of Silk Way Rally. The North Bohemian truck from MKR Technology was hot on their heels, but a pair of punctures slowed down the pilot Martin van den Brink. He reached the finished in eight fastest time.
"Yesterday, Martin hit a hole with one of his impacts, and destroyed the front axle. We changed it and stayed up to eight in the morning, but because we are staying in the same bivouac, we managed easily and we even managed to relax a bit,"said Daniel Kozlovský, technician of MKR Technology team.
North Bohemian technicians managed to prepare the truck so that the crew of Renault racing truck could continue through Mongolian steppes. This time, the timed section started practically just behind the bivouac in Ulaanbaatar, where the competitors returned after four hundred and seventy kilometres. MAZ trucks did best in the second longest special section of this year. Belarussian Viazovich won and took four hours, his partner Vasilevski lost almost nine minutes and Vishneuski closed the top three. Mammoet Rallysport pilot Martin van den Brink was ranked eighth with a half hour loss to the winner."The stage was pretty fast, especially on a hard sandy surface. The car is working well and Martin looks satisfied, even though had to stop twice and change his tires. Due to these troubles, he lost a bit,"explained Kozlovsky and noted that the technicians have to dismantle the front wheel before stage 5.
The victorious Viazovich has strengthened his leading position. In overall standings he is followed by Russian pilots - Shibalov, Karginov and Mardeev with Kamaz trucks. Van den Brink fell to fifth position, trailing three quarters of an hour. It was Mardeev, winner of 2015 Dakar, who climbed to fourth position.
The Silk Way Rally will reach its half on Thursday. The fifth stage will lead from Ulaanbaatar to Mandalg, where the crews will leave typical Mongolian steppes will reach a plateau at 1,600 meters above sea level. They will have to tackle 337 kilometres of special sections.
Results – 4th stage – Ulaanbaatar – Ulaanbaatar (470/476 km):
1. Viazovich (BLR) MAZ 4:01:40
2. Vasilevski (BLR) MAZ +8:46
3. Vishneuski (BLR) MAZ +13:33
4. Kuprianov (RUS) Kamaz +17:28
5. Shibalov (RUS) Kamaz +17:33
8. van den Brink (NED) Renault +35:55
Overall:
1. Viazovich (BLR) MAZ 09:40:45
2. Shibalov (RUS) Kamaz +18:38
3. Karginov (RUS) Kamaz +26:27
4.Mardeev (RUS) Kamaz +32:30
5. van den Brink (NED) Renault +44:46