Van Kasteren finishes sixth in the 3rd stage
10.1.2019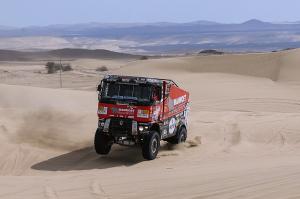 Dutch pilot of the North Bohemian truck Janus van Kasteren got a great result. In the 3rd stage of the Dakar rally he arrived in the sixth fastest time and climbed into TOP 10 in the overall standings. The stage was another extreme stage in the dunes, where many great riders lost their chances for a solid result.
"Unfortunately, after the accident yesterday, we lost a truck with the crew of Martin van den Brink. Martin eventually managed to reach the finish of the second stage, but the damage was too big, so it was impossible to stay in the competition. We have to accept this, because Dakar is an extreme and unpredictable competition where even the best ones get in trouble, "said Mario Kress, author of the MKR Adventure project, who also believes that two other pilots will fly the Renault flag high. They seemed to hear his wishes. Van den Brink's team-mate from the Mammoet Rallysport team has gone wild in the 3rd stage. He soon surged to the elite pilots and eventually reached the finish line in sixth fastest time.
The stage between San Juan de Marcona and Arequipa was almost 800 kilometres long. Timed section had 331 km. This time, Russian pilot Karginov was the fastest, ahead of his colleagues Sotnikov (second) Nikolaev (third). Although for many favourites Tuesday test was almost like a purgatory, Renaults from Židovice prevailed, even though the second of the MKR Technology team trucks with the pilot Gert Huzink was fighting with traps of the course. In the end, he crossed the finish line on fourteenth position. "Gert flew into a hole and destroyed a bumper and right front light. The boys lost a half hour, then about a quarter of an hour due to navigation issues, and twenty minutes later when we had to change the tire. Technically, the truck is OK and the crew is showing their spirit,"said Mario Kress.
However, even the former champion de Rooy lost some time, lost silver position and dropped out of the top five placings. Leader Eduard Nikolaev retained his leading position. Janus van Kasteren jumped to top ten and is on ninth position in the current overall ranking, Gert Huzink is the 15th.
On the fourth race day, second longest timed section of this year's race is scheduled and will take slightly more than four hundred kilometres. Overall, the route from Arequipa to Tacno has 664 km and here begins the marathon part, where crews will have to rely solely on themselves.
Results – 3rd stage - San Juan de Marcona – Arequipa (798/331 km)
1. Karginov (Rus) Kamaz 04:26:49
2. Sotnikov (Rus) Kamaz +4:30
3. Nikolaev (Rus) Kamaz +5:06
4. Villagra (Arg) Iveco +11:55
5. Kolomý (Cze) Tatra +17:25
6. van Kasteren (Ned) Renault Trucks +40:55
14. Huzink (Ned) Renault Trucks +1:43:51
Results - overall:
1. Nikolaev (Rus) Kamaz 09:28:51
2. Sotnikov (Rus) Kamaz +8:25
3. Villagra (Arg) Iveco +15:12
4. Karginov (Rus) Kamaz +18:22
5. Kolomý (Cze) Tatra +40:43
9. van Kasteren (Ned) Renault Trucks +1:58:01
15. Huzink (Ned) Renault Trucks +2:40:18