Van Kasteren was stopped technical problems
17.1.2019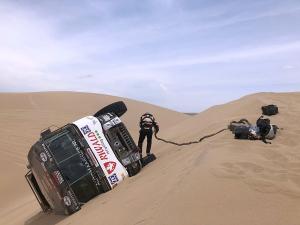 This is like a bad dream. The penultimate stage of the 41st Dakar rally become a Nemesis for the North-Bohemian MKR Technology truck, piloted by Dutch driver Janus van Kasteren. In the 9th stage, technical problems with his engine forced him to stop. On the contrary, Gert Huzink got to know what is like to "take a headspin". But, unlike van Kasteren, he finished the stage.
"It's almost over. This year's Dakar was bloody difficult. In the dunes with fine sand fesh fesh, where trucks got stuck regularly, all the machinery and above all the engine, got a massive payload. We believed that the truck would handle it, but unfortunately it was in the penultimate stage we faced a failure and the engine did not make it. We are disappointed, angry, desperate, there are more feelings in our heads, but we have to admit that Dakar was just once again extreme and unfortunately beyond our strength, even though people in the team were doing their best and deserve a great compliment. But we must not stay with our heads down, we must continue to look for a way to become stronger and more resilient to all pitfalls,"Mario Kress, the head of MKR Technology's North Bohemian team designers, summed up the unpleasant situation.
As a part of the penultimate 9th stage, crews had to handle a four-hundred-kilometre loop with both start and finish in Pisco. The three hundred and eleven kilometre special section was best handled by a double Dakar champion Russian Nikolaev, who was fifteen minutes faster than second Belarus Viazovich. Janus van Kasteren stopped before third waypoint and at this moment he is still in the dunes.
It was Gert Huzink of Riwald, who made the team happy, who took third fastest time among trucks the "small" Dakar race despite the fact that he had an accident when he took a tumble from a dune. The crew managed to recover quickly, get on the wheels and hurry to the finish. This time as well, it was Martin Macík who was driving truck monster as the fastest one.
However, Russian driver Nikolaev made it back to the lead of the overall standings in the main competition, as he had led the race from the very beginning for almost the whole time. For only two stages his fellow countryman Sotnikov was leading the race. He is now again in silver position with a loss of less than half an hour.
There is only stage to go to the finish of this year Dakar - the final 10th stage from Pisco to Lima. To get to Peru's capital, crews have to travel for nearly three hundred and sixty kilometres, but the timed section is only one hundred and twelve. Nikolaev has a gold hattrick within reach.
Results – 9th stage – Pisco - Pisco (407/311 km):
1. Nikolaev (Rus) Kamaz 04:19:37
2. Viazovich (Blr) Maz +14:03
3. Sotnikov (Rus) Kamaz +27:43
4. Loprais (Cze) Tatra +28:30
5. de Rooy (Ned) Iveco +31:07
DNF van Kasteren (Ned) Renault Trucks
Results - overall:
1. Nikolaev (Rus) Kamaz 39:24:52
2. Sotnikov (Rus) Kamaz +28:35
3. de Rooy (Ned) Iveco +1:35:10
4. Villagra (Arg) Iveco 47:44
5. Loprais (Cze) Tatra +6:05:02