We are going on, says Mario Kress with a fighting spirit
4.2.2019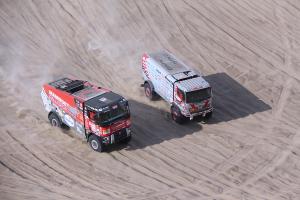 Sand, sand and sand once again, accidents on a daily basis, technology under unbelievable pressure. This year's Dakar was unusually extreme and it is no surprise that a number of Bedouin adepts did not make it. Bad luck did not spare North-Bohemian trucks from MKR Technology team.
"After this year, I had a couple of days of mixed feelings, and it took me a moment to absorb. I'm not afraid to say that we were well prepared. Before we drove to Dakar, we went through a lot of tests, tried not to underestimate anything and were very meticulous in the preparation. But as Dakar once again confirmed, Dakar is about luck a lot"commented Mario Kress, leading designer of Renault Trucks and head of MKR Adventure rally project.
Team from Židovice sent a trio of trucks to the competition, piloted by Dutch riders Martin van den Brink and Janus van Kasteren from Mammoet Rallysport and Gert Huzink of Riwald Dakar. Only the last named eventually succeeded in the so-called "little" Dakar, when the organizers allowed to race to those who did not finish the first week. The crews started very carefully and all three trucks finished in the second decade in the ranking in the opening stage with minimal loss to the leading Russian Nikolaev with Kamaz, champion of last two Dakars. The first complications came in the second stage. Martin van den Brink was the first one to run into troubles. He had troubles with the engine, tumbled four times from a dune, and the truck became irreparable at that moment. The dream of a good result was gone as well for the youngest participant in Dakar, Martin's sixteen-year-old son Mitchell, who had received a number of exceptions for his debut. Janus van Kasteren took the position of the leader, and he made it to the top ten in the next two stages. He got sixth position twice - his personal best on Dakar. It also seemed like the thirty-two-year-old Dutchman will make it to the end, but the machinery stopped him in the penultimate stage. Only Gert Huzink, who left the main race with a hole in the engine exactly in the middle of the race before the desired day of the day, finally got to the city Lima. Thanks to him, the engineers from MKR Technology managed to replace the engine and Huzink went on in the "little" Dakar to the Peru capital as the third best truck. "Troubles we were fighting with in the last year, we managed to repair, but there appeared completely new problems. We were delighted as everything was going smooth, but in the end we were surprised by something new. We are still improving, but we lack the experience of Kamaz or de Rooy. They've been in the field for over a quarter of a century. For our truck it was only the fifth Dakar, but I have no doubt that we would not be competitive. I even dare to say that in Morocco we would not have had such a problem, "said Mario Kress and immediately explained his assumptions:"This year, Dakar was very extreme. It was composed of sand and dunes, which is the difference compared to the Moroccan rally. Because it was our problem - going down the dunes. We have to work on this, because were satisfied with the rest. We have made great progress," designer from Židovice is confident in his machines.
That he is right about the difficulty of this year can be proved by looking into the final rankings. Of more than forty trucks at the start, only fourteen made it to the finish. Russian Eduard Nikolaev won the third gold in a row. "We all believed in better results, so some emotions were in place, so it was necessary to let them cool down a see it with clear head. Now, with a week gap, I see everything else a little different. It is a great incentive for us to go further. Our team has worked well all the time. The boys were working thousand percent hard. They gave it everything. For further improvement, we work together with Renault Trucks to analyse the engine and solve the problems we have encountered. Great thanks goes also to all of our partners because without them we would not have been where we are. It's still a big lesson, and I see that we're improving, "Mario Kress looks positively.
This year's 41st Dakar rally was prepared only in the dunes of Peru. In total, there were ten stages in eleven days for the crews, over five and a half thousand difficult Peruvian kilometres and three thousand kilometres of special sections. Seventy percent of the route consisted of sandy ground and treacherous dunes. "We have gained valuable experience and a great deal of critical data for further development. I also take see it as a positive thing - the idea of a "small" Dakar, leaving the crews that dropped out in the first week to come back in the second week. Thanks to that, we've got the information we can use now, "Kress explained.
Although this year's Dakar for the MKR Technology team did not went their way, it strongly supported further development. "We must not stay with our heads up. After all, we have gained a number of new experiences that we will now use. We are having talks with pilots in a week, we are working on building a fourth truck and looking forward to challenges ahead that we will overcome together. We are moving on, "concluded lead engineer Mario Kress with a typical combat dictum.